De Soto Baptist Church celebrates couple's musical legacy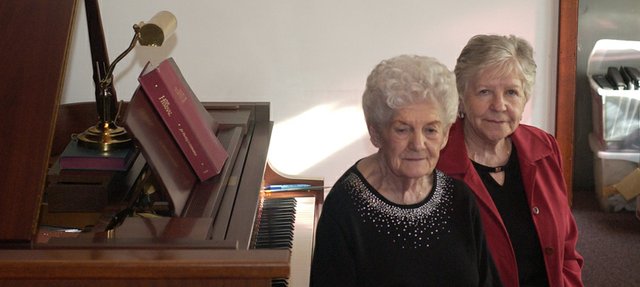 The 50 years of service Mary Lou and Kenny Simmons gave to the De Soto Baptist Church will continue on thanks to a posthumous gift.
The church had a dedication Sunday of a grand piano made possible through a gift from the couple's will.
Mary Lou died on Christmas Eve of last year, almost six years after her husband, Kenny.
Eight members of Mary Lou's family attended the Sunday's service to share in the piano's dedication. Among the family members were her two surviving siblings, Gladys Danelenko of Bakersfield, Calif., and Anna Lo Lathem of Springfield, Mo.
Danelenko said Mary Lou left money to the church in her will and it was decided it should be used to buy the grand piano.
The sisters said the Simmons found a home in De Soto when the then newlyweds moved to the community in 1952 to work in the Sunflower Army Ammunition Plant from Springfield.
"They came to De Soto, and they liked it," Lathem said. "They stayed here the whole time."
The Simmons' first home in De Soto was the El Rancho Motel. Lana McPherson said her family also lived at the motel in the early 1950s and become close friends with the Simmons.
"They were my other parents," she said. "Mary Lou was the first person to hold me when my parents moved to De Soto at the motel."
The couple didn't have children of their own but touched the lives of many De Soto children through their activities with the Baptist Church, McPherson said.
"You ask anyone my age in this room and they'll tell you they made a big difference in their lives," she said.
Among other things, the couple would organize and provide frequent trips to the Kansas City Zoo for the church's children, McPherson said.
"Kenny had a beat-up Volkswagen he would load up as many kids as he could and then Mary Lou would drive the other car and we'd all go down to the zoo," she said.
But it was another service to the church that made the gift of the piano so appropriate. Kenny was for years the church's worship leader, and as such led the choir in which Mary Lou was a members.
The Rev. Richard Copeland said that was only one of the Simmons' roles within the church. After his retirement, Kenny was the visitation minister, and Mary Lou took up that position after his death, Copeland said.
"They were members here for more than 50 years," he said. "They provided leadership wherever they were needed."
Mary Lou's sisters said Sunday was a special day as they felt the affection the church's congregation had for their late sister and brother-in-law.
"They were very active in the music of the church," said. "Everything worked out perfect."