Ready to rumble
Squad hopes to build on last year's late success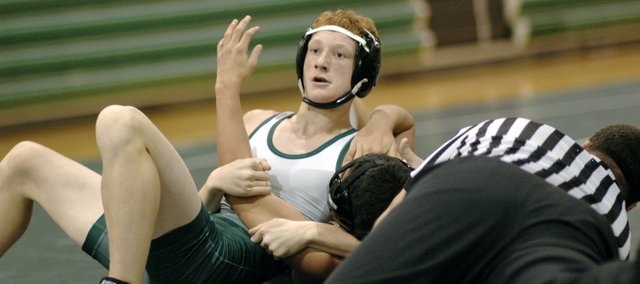 De Soto wrestling coach Shannon Sawner hopes this year's squad can do something last year's didn't: qualify a wrestler for state.
Last year, though, the squad came close as freshmen Cameron Magdaleno and Demitris Hall battled but fell one win away from a berth at state. Sawner went to the state tournament last year to see what it was like and would like to return there this year.
But to do that, the Wildcats will have to do so without Magdaleno and Hall. Both are no longer attending De Soto High, as both have moved away for family reasons, Sawner said.
"We're kind of in a rebuilding stage," Sawner said, who is in his second year as wrestling coach at De Soto. "I took over a team that didn't have very many varsity wins coming in last year. We had a pretty decent freshman class come in and we've got a few of them coming back."
Key returnees for this year's squad include Todd Atchison, Sam Price, Donny Parr, Caleb Adkins, Jarod Lowe, Josh Below and Brandon Vukus. All of them gained valuable varsity experience. Last year's team was mostly freshmen and its only senior got injured and had no previous wrestling experience, Sawner said.
This year's squad is also young. It has four seniors but none of them have wrestled for Sawner before.
They do, however, have wrestling experience at De Soto, having wrestled for the previous coach earlier in their high school careers.
"I'm hoping they turn the corner and realize they're upperclassmen now and can be leaders," Sawner said of his veterans.
Sawner will also count on his more than 20 freshmen wrestlers to show steady improvement and contribute this season.
The freshmen are a little more seasoned than what freshmen wrestlers were in the past because this is now the third year De Soto has had wrestling at the junior high level. Sawner said he wasn't about to let the team use being young as an excuse not to perform.
"It is challenging but we've made the decision this year to kind of make excuses to win," Sawner said.
Parr and Vukus are two wrestlers who have wrestled during the offseason and have improved since last year, Sawner said.
"I'm curious to see how we can develop them throughout the year," he said.
De Soto began practice Monday and will open the season Dec. 6 at Wamego. The Wildcats will host two matches this year. The first is Dec. 9 against Santa Fe Trail and the other is a triangular Feb. 5 with Atchison and Eudora. Sawner said he wouldn't measure success by wins and losses alone.
"It's more of are they doing the things that we're asking them to do and are they having success and are they learning from the coaches and if they're developing character and toughness and developing those attributes," Sawner said. " I feel like if we can get them to do some of those things, we'll start having success and wins will come and we'll get some kids to the state tournament."
The state tournament is more than two months away, but don't be surprised if Sawner makes a return trip this year. But this time he may just have a few wrestlers go with him.