Transit upgrades bypass De Soto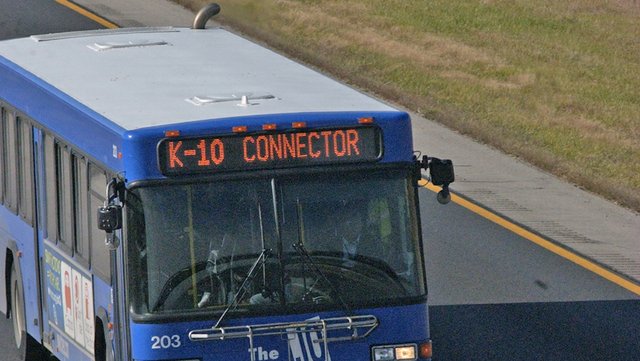 Unfortunately for local commuters who watch wistfully as blue buses zip past weekdays on Kansas Highway 10, county transit enhancements planned for early next year will not mean stops in De Soto.
Earlier this month, Johnson County commissioners approved Johnson County Transit's emergency funding request for $2.5 million. The funding includes $1.4 million to purchase as many as seven buses and a $1.05 million transfer from the general fund to add 50 more operating hours a week.
Alice Amrein, Johnson County Transit transportation director, said the county would expand service on popular routes with the arrival of the seven buses in late January or February.
One of the routes to see new buses is the K-10 Connector between the Kansas University and the Edwards Campus.
Another bus would be added to the route during peak morning and evening hours so they departed at the two campuses at half-hour intervals instead of on the hour, Amrein said.
The buses will remain express routes and that mean no stops in De Soto, despite interest in the community for service, Amrein said. Stops would make the buses slower for riders than driving cars from campus to campus and decrease ridership, she said.
Amrein said disappointed De Soto commuters should be patient. Transit was looking at a local K-10 route that would serve De Soto and such an expansion in on the agency's five-year strategic plan.
Overall, Johnson County Transit experienced a 39 increase in riders the first 10 months of 2008. The system has had 470,975 riders through Nov. 13 of this year compared to 389,279 for all of 2007.
Transit's newfound popularity has not been significantly affected by the steep decline in gas prices the past two months, Amrein said.
"It's down slightly," she said of riders on Johnson County Transit in the last 30 days. "Less than 100 to 150 trips per day for the whole system.
"I think a lot of people who started using it found out it's very easy to use. Now, instead of riding five days a week they may go four."
Johnson County Transit has also been a victim of its recent demand and has lost potential daily commuters because of crowded buses, Amrein said. That was particularly true on the K-10 connector route, she said.
"We're going to have to do some marketing, especially with the K-10 riders," she said. "We lost some people because of the waits or because they couldn't find a seat and were late for class because they had to get to their car. We're going to have to work a little to get those people back."
Lawrence residents approved two sales tax questions Nov.4 to operate and expand that city's transit system. Amrein said down the road, Johnson County Transit officials wanted to discuss shelters and other enhancements for the K-10 route with their Lawrence counterparts.
"It's on the to-do list," she said. "They have an interim director and have to get their arms around what they have with the tax and how they are going to coordinat
More like this story