Moving forward
Wildcats progress in 2008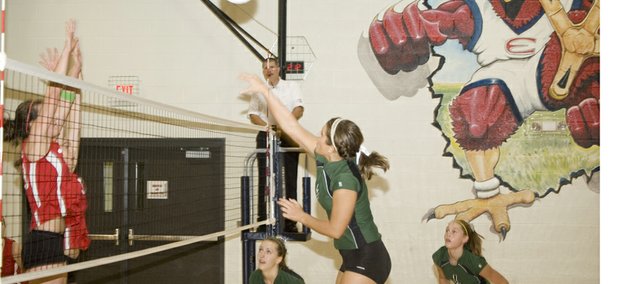 The season may not have ended quite the way De Soto volleyball coach Jenny Barnhart would have liked. The team lost in the first-round at sub-state but from its opening match of the year to the final point, the 2008 squad showed it had improved considerably from a season ago.
"We really progressed overall as a team and had a little speed bump there in the middle but they fought hard all season," Barnhart said. "And we were definitely a better team than we were last year. And we were a better team at the end of the season than we were when we started."
The season began with a home quad in early September, and by month's end the Wildcats had already doubled their win total (10) from the previous year (5).
"We were able to do things that just were not possible last year, as far as running some offensive plays," Barnhart said.
The team was led by its three seniors of Carlie Burnett, Amber Laudick and Dani Price.
"Those three have just been outstanding leaders," Barnhart said. "Their play has been consistent and their attitudes and leadership, as far as selfless attitude and determined work ethic, they would preserve through any adversity.
"They would come to practice and just be focused on volleyball. And they were good role models not just for my team but for younger players in the program."
Jess Dailey and Jordin Burford were two juniors who saw significant minutes this year. The club also had three underclassmen contribute heavily in freshman Becca Maasen and sophomores Laura Lambert and Brittany Brewer. As a freshman Maasen led the team in blocks and kills. She also was one of three Wildcats to earn All-Frontier League Honorable Mention honors.
"She came in knowing quite a bit," Barnhart said. "She's been playing club volleyball for quite a few years. She just really has a good handle on the game."
Joining Maasen on the All-League team were Laudick and junior Tami Crow. Barnhart said Crow ran the offense well from her setter position.
"In going from a 6-2 on varsity in her first experience last year to a 5-1 her second year, she did a fantastic job of recognizing who was hot and mixing up her sets a little bit," Barnhart said. "She's got the drive to continually improve and she'll work and is very coachbale. With her and the other girls coming back and our younger talent coming up it's getting very, very exciting."
Though the squad didn't end the year with a winning record (14-22), it ended the year with a nine-win improvement from a season ago. Thee squad also took fifth-place at the Frontier League tournament in mid-October. Barnhart said this year's squad was more competitive during league play this year, and added that the team could be better next season.
"I'm really looking forward to our future," Barnhart said. "We've got a lot of girls this year who are going to play club volleyball, more so than have done that in the past. And that just gets them more exposure to the game outside the nine or 10 weeks of the season."
Barnhart said she would also use the new rule change that would allow her to coach the team more during the summer months.
"I really think that will help our program because some of these girls still need to learn proper technique and I shouldn't be doing that at the varsity level," she said. "They should come with a lot of knowledge, so that's going to be real advantageous for me to work with a bunch of girls this summer."
One are of need Barnhart hopes to address is having a force at the outside hitter position.
"What we're lacking is that one go-to big hitter that a lot of teams we play seem to have," she said. "We were lacking that and at times that would get us into trouble when we didn't have the girls that could get the kills."
Barnhart said Maasen, Lambert and Brewer could all help in that area next year as the team continues to set goals both next year and seasons to come.
"It's small steps," Barnhart said. "The girls set some short-term goals and they continually met those goal and we had to set new ones. So if we continually take baby steps and keep in mind the big target of moving on to state — but we need to have our small stepping stones along the way — these girls are very capable of that."
More like this story