Cats overcome injuries, ailments
Girls conclude 2008 season with second-place at state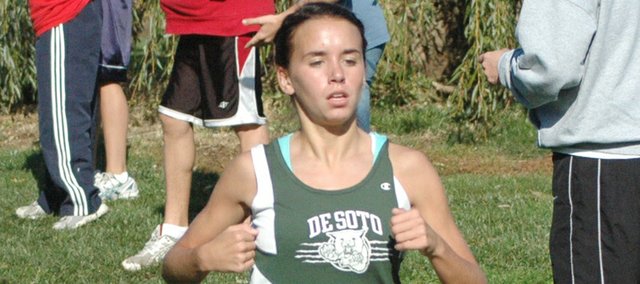 Injuries and illness were seemingly as routine as daily practice for the 2008 De Soto girls cross country squad. But despite the team's ailments, the girls managed to battle through the season and finish second overall at state.
"Looking where we were at the beginning of the year to where we were at the end of the year, it's easy to look and it and say we should be disappointed because we beat Baldwin early on and they came back and beat us pretty good at state," De Soto cross country coach Chris McAfee said. "But for us to still go down there and get second-place, I'm very pleased with that."
The Wildcats season began with a first-place finish at Anderson County. The following week, wet weather caused the Wamego Invitational to be washed out. The girls and boys squads ran that weekend, albeit on a muddy course at Emporia. The girls were unfazed by the wet conditions and took home first-place at the meet.
The team's overall health began decline in the coming weeks and would bug them the rest of the season. Carly Stanley battled mono, Beth Reichenberger also battled illness, Hannah Jokisch was slowed by a leg injury and Ellie Sheridan got sick during the last two weeks of the season. McAfee said it was difficult to get the runners in top physical condition because the team was hit with so many ailments.
"This isn't the kind of sport where you can sit practice out and you're still OK," he said. "If you don't get a practice routine, you're losing fitness. And we had some kids that were able to tread water and maintain where they were at the beginning of the year and maybe just take a minor step backwards. But the team kept battling and they stayed positive."
McAfee was encouraged by the toughness Stanley and the team showed throughout the year.
"It says a lot about how tough of a kid she is," McAfee said about Stanley. "She'll come back and bring a lot of determination and great senior leadership for us next year."
Also returning next year will be Lacey Erickson, who finished in sixth-place at state with a run of 15:49.
"Lacey's been one of our steadiest runners over the past two years," McAfee said. "I really think Lacey's just scratching the surface."
Erickson finished just 10 seconds back of the third-place runner at state.
"I think you're going to see her improve even more, which is saying quite a bit, considering she has two top-10 finishes at the state championships under her belt," McAfee said. "So we're looking forward to a couple more years with her."
Reichenberger, also a sophomore, finished 37th at state and didn't run a full week of practice until the end of the season.
"She's a sleeper kind of runner who could burst onto the scene next year," McAfee said. "I think next year she has the potential to be a very good runner, a top runner at 4A. She ran through a lot of pain and was pretty competitive."
And De Soto's top runner, sophomore Ellie Sheridan, led the Wildcats nearly all season. She broke the school's 5K record and ran near the top of the field most of the season. She was slowed by illness during the final weeks but still finished 25th at state.
"I feel bad for her," McAfee said. "If she had stayed healthy, I thought she had a real good shot at winning the state individual title. People didn't get to see how talented she is on the big stage but she's still young and has a lot of great races in front of her. And she's going to be pretty good."
In addition to their second-place finish at state, the girls also won the Bonner Springs Invitational, won their small class division at the Metro Invitational and finished in the top-3 at regionals.
McAfee said the girls were disappointed they didn't win state, but after they reflected on the 2008 season, they realized they had a lot to be proud of.
"We could have been fifth or sixth at state but the girls were able to hold it together enough to get second-place,"
McAfee said. "That says a lot about their character and who they are. I'm really proud of them keeping it together for the entire season.
"I think as they thought about it, they were pretty proud of what they were able to accomplish."