Boys squad meets '08 challenges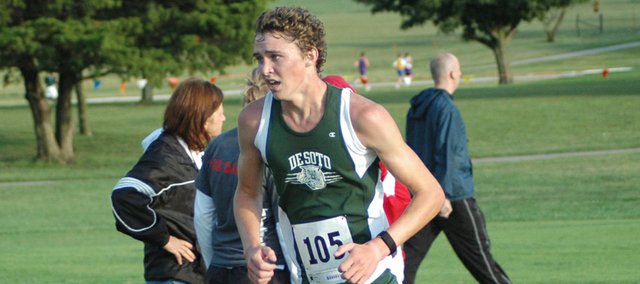 At the start of the year, De Soto cross country coach Chris McAfee assessed his team. It was an older group that had four senior runners, but many of the runners had little varsity experience.
But McAfee challenged his runners to get in great physical shape, and his team responded by staying pretty healthy during the season and concluded the year with a fifth-place finish at the state meet.
"Those guys took on that challenge," McAfee said.
Helping lead De Soto this year were four seniors, including Trey Lind and Colin Jokisch, who both qualified for the state meet. Lind finished in 19th and Jokisch came in 46th at state. McAfee said that seeing Lind take home a medal was a highlight of his coaching career.
"He's worked extremely hard for that," McAfee said of Lind's state medal. "He's always been a guy who has been in other people's shadows. For him to be our No. 1 guy at the state meet and get a medal is pretty phenomenal It's something he's been talking about for a couple years how bad he wanted that."
De Soto also had strong seasons from juniors Austin Hinchey and Ben Burgweger. Hinchey finished 30th at the state meet and Burgweger came in 61st.
"He's gong to be one of the better guys coming back in the state," McAfee said of Hinchey. "And Ben came on really strong for us this year. He's a guy if he puts in a good offseason training he could make an impact on our team."
Juniors Ry Patton and Cameron Arens progressed over the course of the season. Patton battled nagging injuries but finished 51st at state, and Arens made the varsity squad for the first time and came in 71st at state.
"Brining him back is a huge plus," McAfee said of Arens. "He's a guy who keeps getting stronger and could be outstanding."
Bryan Jessip became the first freshman runner to compete on the varsity squad in a few years and finished in 58th at the state meet.
"He could end up being really, really good," McAfee said. "He has the potential to be one of the best runners we've had."
In addition to their top-5 finish at state, the boys also finished third at the Frontier League meet and second at regionals. McAfee said he was pleased with the team's season but wanted them to be even better next fall.
"On paper we've probably got the fourth or fifth best team coming back," McAfee said. "But if the team works really hard in the offseason, we should be able to improve on that next year."