Musical grabs De Soto High School students' attention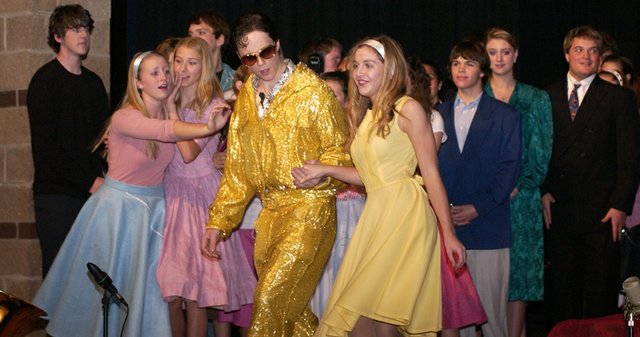 Instructing the nearly 35 De Soto High School girls on stage swooning over Conrad Birdie, the 1950s heartthrob of "Bye, Bye Birdie," choreographer John Copeland noticed an absence of follow through.
"You just screamed, but you've got to . . . " said Copeland, finishing the sentence with two shaking clenched fists. "It's almost like you have to go to the bathroom."
Taking heed, the kept up their excitement throughout the scene.
The De Soto High School's fall musical's cast appears more attentive and engaged in the production than those in past years, said Brian Hileman, De Soto High School drama instructor.
"It seems like in past years they just went through the motions until actual performances," he said. "I think they are really excited about it. It's rare you have a musical comedy like this."
Brian Murdock, who plays Albert Peterson in the musical, agreed.
"I think people are more excited about this one," he said. "It seems like we're a bit more ready than we were in the past."
Helping to make "Bye, Bye Birdie" interesting to the students is that it has both large choruses that have more than 50 students on stage and small ensembles of a few key cast members, Hileman said.
Helping make the musical special is that De Soto High School is performing "Bye, Bye Birdie" 50 years after it was written, Hileman said. The musical is a spoof on Elvis Presley being drafted into the Army at the height of his popularity. In the musical, Conrad Birdie faces the same fate, which leads the girlfriend of the man who writes Bridie's songs and manages his career, Albert, to suggest one last publicity stunt that brings the star to Sweet Apple, Ohio.
"I'm Albert's girlfriend," said Jeanna Hodges, a senior who plays Rose Alvarez. "I really want him to marry me, but he can't get a clue. Then, I sort of rebel."
Jeanna said one reason the students were so engaged in the production was teens having fun playing teens.
"They can be teenage characters back in that time," she said. "So we're not being something different."
Waiting in the hallway for her next chorus, sophomore Shelbie Todd looked like a time traveler from the 1950s with a pink sweater over a white blouse, rolled-up jeans and black-and-white saddle shoes.
Getting a part was a bit scary because of find appropriate dress until she found a reliable resource, Shelbie said.
"My grandmother helped me," she said. "She told me what kind of shoes to wear and of the sweater."
More like this story