Hayden wins squeaker, expects recount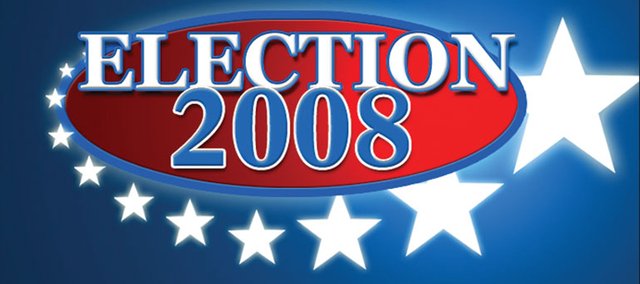 Although he was sure there would be a recount, Calvin Hayden was nonetheless celebrating his apparent election Tuesday to the Johnson County 6th District Commission seat.
Unofficial results in the non-partisan race indicated Hayden squeaked by incumbent John Toplikar of Olathe, 17,632 to 17,580,
"That's awful close — 52 votes," he said. "I'm sure that's close enough there will be a recount."
Should the results hold up, Hayden, who lives just southwest of De Soto, would be the first Johnson County commissioner from the community in more than half a century.
"I think the last person from De Soto was Leland Penner's father in the early '50s," he said. "He was an outstanding commissioner who did a lot of great things for De Soto. I told Leland I'd have big shoes to fill."
Hayden retired from the Johnson County Sheriff's Office in May, a week before announcing his candidacy for the commission.
Toplikar won the seat after the county commission was expanded in 2002 from five to six members with a full-time chairman. After serving a two-year term after the expansion, he won re-election in 2004. Before running for county commission, Toplikar served in the Kansas House and on the Olathe City Council.
"I told my team, 'You beat a two-term commissioner, you've done something,'" Hayden said. "It was a great team we had. Everybody worked their tail off for this."
Hayden said his first priority would be to officially reappoint the many northwest Johnson County residents serving on boards and committees. Toplikar said there was no need to reappoint them unless it was officially requested.
As for policy, Hayden said he would like to freeze personal property taxes on senior citizens on that part of the county government's mill levy.
"It's a great place to start," he said.
The 6th District race earned national attention when Toplikar was caught on video removing Hayden's signs. He was cited for misdemeanor theft. The video was taken a campaign volunteer riding in a vehicle driven by Hayden's wife, Kelly.
Hayden won't be the only newcomer on the commission. Former Shawnee Mayor Jim Allen easily beat incumbent John Segale in the 2nd District. David Lindstrom did win re-election in District 3.
In another county race of note, Republican Steve Howe beat Democrat Rick Guinn in the race for Johnson County Attorney, 138,394 to 120,525. Both men were prosecutors under former Johnson County District Attorney Paul Morrison.
County voters resoundingly rejected a measure that would have changed the current appointment process used to name judges to the Johnson County District Court to a system of direct elections. The final vote was 113,790 yes to change the method and 155,025 no.
Residents of Johnson County also approved a 0.125 percent sales tax, expected to pump $15 million a year into efforts to create a research triangle in connection with Kansas University and Kansas State University.
The tax won handily, garnering 57 percent of the vote.
Revenues from the tax are to be split evenly among three projects:
• A KU Cancer Clinical Research Center, to be opened in Fairway. The project is considered a key component in the KU Cancer Center's ongoing push to earn a National Cancer Institute designation.
• A KU Business, Engineering, Science and Technology Center at KU's Edwards Campus in Overland Park, to accommodate up to 1,000 students annually.
• A K-State National Food and Animal Health Institute, planned for the K-State Innovation Campus in Olathe.
Mark Fagan contributed to this story.
More like this story