Girls runner up at state meet in Wamego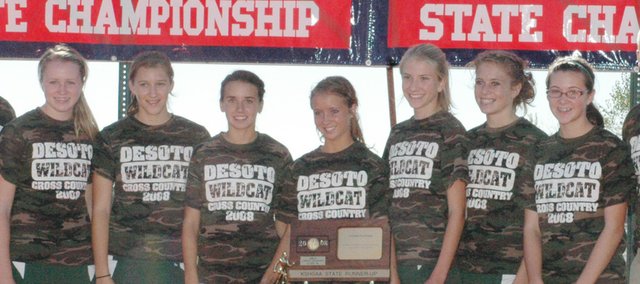 De Soto cross country coach Chris McAfee was a little down about his girls team's second-place finish Saturday. That is, until he took a glance at a few other coaches.
"I was a little disappointed when the race was over," McAfee said. "But a lot of coaches were sitting there like, 'I'd trade spots with you in a heartbeat.' So that kind of put me in my place."
The Wildcats had finished No. 2 at the state meet for the second consecutive year with 96 points. Baldwin took first with 46 points.
De Soto was able to bring home a trophy. It was the third-straight year the Wildcats placed in the top-3 at state – despite their best runner, Ellie Sheridan, having her worst day of the season.
Sheridan, who took first-place at the league and regional meets, dropped to 25th Saturday with a time of 16:23. It was her worst time and lowest placement of the season.
"Sometimes you just don't have a good day," McAfee said. "She struggled, and I feel bad for her because she's had a great season and she didn't have the kind of performance she wanted to have."
Lacey Erickson came in sixth at 15:49 and Carly Stanley finished 31st at 16:40. Rounding out the girls squad for De Soto was Beth Reichenberger, who came in 37th at 16:54, Hanna Jokisch finished at 17:14, Jordan Kline came in at 18:01 and Sarah Bell finished with a run of 18:37.
The team's second-place finish is all the more impressive considering what it had to overcome this season. The array of illnesses afflicting the team included mono, bronchitis and anemia, along with a host of nagging injuries.
McAfee described the squad as "snake bitten."
"If it could go wrong for the girls then it did," he said. "I don't want to make excuses or say that if we were healthy then we'd kill Baldwin. I don't think that's the case. But we just couldn't get healthy this season."
Still, the team finished second at the state meet. And what's more, everyone on the team should be back next season.
There wasn't a single senior on this year's squad, and the top two runners (Sheridan and Erickson) are only sophomores.