De Soto greets Marine home from Iraq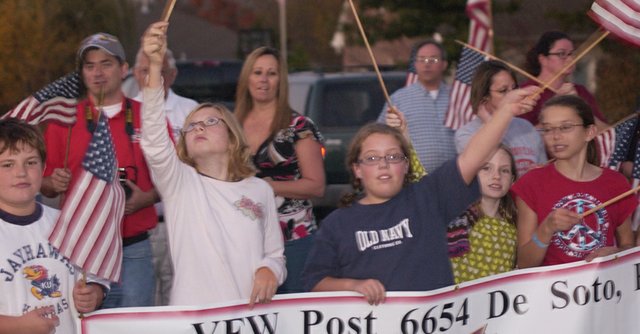 He may have been a stranger, but De Soto still turned out to give U.S. Marine Staff Sgt. Hebert a warm welcome on his return from Iraq.
The Marine arrived Sunday evening at the De Soto home of this future in-laws Paul and Rita Sapienza to a red, white and blue welcome courtesy of De Soto Veterans of Foreign Wars Post 6654 and its men and women's auxiliaries.
"It's really appreciated," said Ochoa, who grew up in Chicago before joining the Marines 10 years ago. "They don't know me, so they didn't have any reason to do this."
About 45 people were on hand to greet Ochoa back to the states after a seven-month tour in Iraq, shouting "Welcome home, hero" and waving flags as he arrived from KCI. The crowd included friends and family but the majority were with the VFW or its auxiliaries.
Staying close to Ochoa during the welcome was Danielle Spinienza, whose request to make her fiancée's return more festival triggered the reception.
Drew Culbertson, De Soto VFW Post commander, said Danielle and her father came by the post Saturday to request flags to welcome Ochoa back.
"The family stopped by the VFW and asked if we could give him a good welcome home," Culbertson said. "We said we'd be there. We wanted to show him we appreciate what he's done for us."
The welcome home is part of an eventful week for Ochoa, his 4-year-old son Adrian, Danielle and her son Cody. The couple will be married Friday before Ochoa leaves for Okinawa, Japan. He will be there a little more than a month before returning in mid-December, when the couple will be married again in a larger, traditional ceremony, Danielle said.
The two got engaged when Ochoa was stationed in Ochoa was stationed in Independence, Mo., on a recruiting assignment. She first saw Ochoa's photos on his My Space site and decided he was cute, Danielle said. Online messages led to her asking him on a first date to an Ultimate Fighting event in Kansas City, Mo., she said.
Ochoa left for his fourth deployment to Iraq in March. He served there during the 2003 invasion and his second tour included action in the Battle of Fallujah, the deadliest American combat of the Iraqi War.
The past seven months, Ochoa was stationed at Al Asad, in the same Al Anbar Province as Fallujah. But he said the situation in the province and Iraq was much different.
"It's a lot better now," he said. "It's much quieter."
Ochoa said he didn't think he'd be sent back to Iraq a fifth time but deployment in Afghanistan was a possibility.
It was a prospect that didn't thrill his fiancée.
"Over my dead body," she said. "I want to keep him at home