Brown, Lynn headed back to Topeka to represent De Soto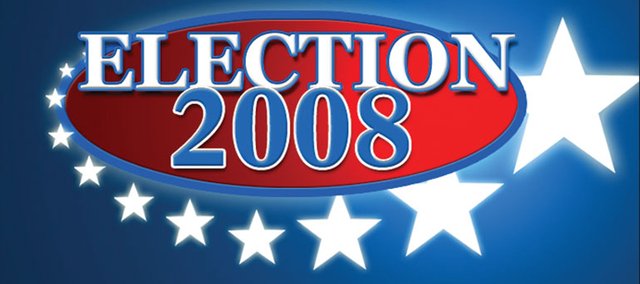 Johnson County support gave Eudoran Anthony Brown the winning edge Tuesday in his bid for re-election to the Kansas House of Representatives.
The 38th District Republican won Johnson County over his Democratic challenger, Stephanie Kelton, Lawrence, by a final count of 7,784 to 4,457. That margin was more than enough to overcome Kelton's 3,445 to 2,694 edge in Douglas County. Overall, Brown got 10,478 votes to 7,902 for Kelton.
In addition to its Lawrence precincts, the so-called K-10 district stretches east to Lenexa and includes all of De Soto and Eudora and parts of Lenexa, Olathe and Shawnee. It is estimated that growth since 2000 has given the district the largest population of any House district in the state.
Brown said he thought voters related to his circumstances of an ordinary family man going through the same tough times they faced and understanding now was not the time to raise taxes.
Kelton, an economics professor at the University of Missouri-Kansas City, said she was pleased with her showing in Douglas County but it proved too difficult to make inroads in the traditionally Republican Johnson County precincts.
"It's such a big district," she said. "As I've been told many times in recent weeks, it's the largest House district. We tried to work it like you need to work it, which is to walk it door-to-door.
"It's a very tough district for a Democrat."
With his re-election to a third term, Brown said he would work to introduce "monumental" legislation in the 2009 session designed to provide uninsured Kansans with a free-market solution for interim health insurance.
Also winning re-election to the Legislature was Julia Lynn, who turned back a challenge from Ron Wimmer, a former Olathe school district superintendent, to retain her 9th District Senate seat.
Unofficial figures from the Johnson County Election Office indicate Lynn won with 55 percent of the vote and a count of 21,169 to 17,298.
It will be Lynn's first four-year term in the Senate. A GOP caucus appointed her to the seat in late 2005 after former Sen. Kay O'Connor resigned.
Johnson County voters also helped Democrat Dennis Moore win re-election to a sixth term to the U.S. House. Moore took 51.25 percent of the vote in Johnson County, beating Republican Nick Jordon, 138,310 to 121,366.
More like this story