Voters
OK

De Soto school bond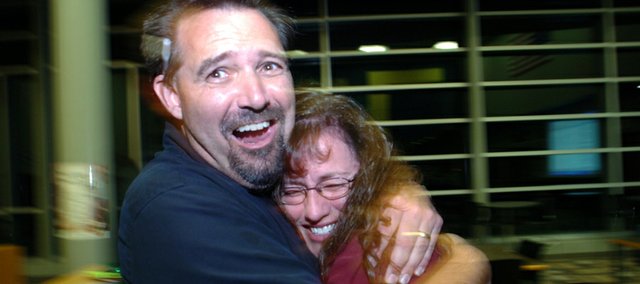 Third time's a charm.
At least, the third time in as many years. That's what supporters of De Soto USD 232's bond referendum were hoping at 8:20 p.m. given the rough numbers they had gathered from polling places and the advance votes the Johnson County Election Office had just released.
According to their tabulations, it was 54 percent yes, 46 percent no for the $75 million bond package that would increase capacity at Mill Valley and De Soto high schools and build a new 600-capacity elementary school in northwest Shawnee.
When final results finally came through at 10:25, it was confirmed: 8,431 yes, 6,719 no.
The results are an immense relief for many like Chris Akin, a member of the Vote Yes Committee who has worked to promote passage of the past bond issues.
"I'm just ecstatic for all kids in our district that the patrons came through and supported their future and education, because schools are the center of our community," she said.
Voters narrowly defeated a $105.7 million bond referendum proposal in November 2006, and then, in September 2007, voted down a $70.5 million, two-question bond referendum in a mail-ballot special election.
Superintendent Sharon Zoellner said she could only speculate why the bond referendum passed this time around, but she hoped it was thanks to the district's efforts to listen to the patrons.
"I would like to think a piece of this is the survey we did of our community last January," she said. "The message that came back was keep it as small as you can, and take care of immediate needs, and that's what our board members worked on."
She said school board members' active role in helping the community understand the issue likely helped, as well.
Akin agreed, saying simplicity in the bond issue — just three main projects — may have been the key.
"It was simple, it was a pared down, people understand it," she said. "It just made sense to folks. We also worked real hard canvassing and getting information out to people, and a lot of people got on board that hadn't been before."
The school district is already in the process of beginning the construction projects. The school board Monday is set to select architects from three finalists and get things moving for Mill Valley and the new elementary school as soon as possible.
"We are in a tight time frame to get things finished by 2010," Zoellner said.
De Soto High renovations are expected to be completed in 2011.
Supporters are relishing the win given the high voter turnout and larger margin of victory.
"The issue in 2002 was our last victory," Akin said. "… It's great to have that feeling again after losing in 2006 and 2007."
More like this story