Kaws end Cats season in first round of playoffs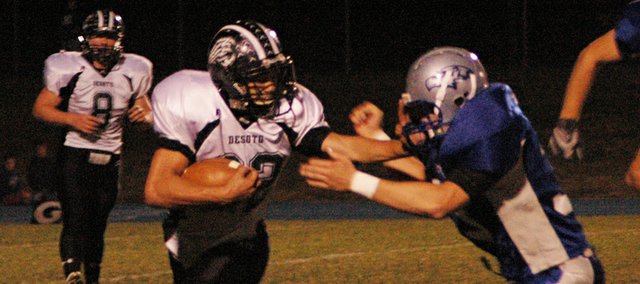 Jake Radell stood in the north end zone of Perry-Lecompton's field hugging players and coaches. He did so with tears in his eyes.
The De Soto Wildcats season ended with a 23-0 defeat to the Perry-Lecompton Kaws Tuesday night.
"I think we just shot our selves in the foot as coach would say," Radell said. "It didn't seem like we pulled it together tonight."
The Wildcats had chances early but a dropped interception that would have gone for six points and a fumble deflated some of the Wildcats enthusiasm.
"The fumble and dropped interception were the two plays of the first half. If we don't fumble the ball it's hard to say where we wind up. If we get the pick-six, it's hard to say where we wind up."
Strong winds made much of the game a battle of field position and Perry won that battle most of the night. In the first quarter De Soto was going into the wind and Perry scored on 27-yard field goal. The Kaws added another field goal right before the half to take a 6-0 lead.
Perry took the opening possession of the third quarter and kicked another field goal and then recovered the ensuing kickoff. Shane Gimzo drove the Kaws down the field in 10 plays and scored on a 7-yard run to give the Kaws a commanding lead. Gimzo would score another touchdown in the fourth quarter as well.
De Soto ends its season at 4-6. De Soto lost its first four games of the season and fought back to win its next four and earn a spot in the playoffs. It was the first time since 2004 that the Wildcats were in the playoffs, and Scott praised his departing seniors.
"This group has been one of my favorites to coach just for that reason alone," he said. "I mean they've got great heart. They give everything they got. It's been a fun year for us.
"When things started off we could have really gotten down about it but the kids kept doing what we asked them to do. And we went on a nice little run and made the playoffs. We got here and tonight just wasn't our night."
For the full story, read Thursday's De Soto Explorer
SCORE BY QUARTERS
De Soto 0 0 0 0 – 0
Perry 3 3 10 7 – 23
SCORING SUMMARY
P – Chakkaphong Artwichai 27 field goal :57
P- Artwichai 22 field goal :00
P – Artwichai 20 field goal 7:25
P- Shane Gimzo 7 run (kick) 3:37
P – Shane Gimzo 10 run (kick) 7:06
More like this story