De Soto poll sites busy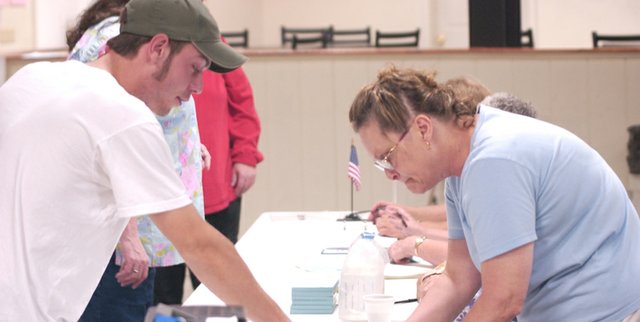 Even through it opened an hour early, a line formed at the De Soto VFW Post 6654 polling site Tuesday before the first voter was allowed in at 6 a.m.
"We had a line at a quarter to 6," said Christine Peterson, election supervisor of De Soto first precinct of old-town De Soto.
Election worker Ron McDaniel said there were lines the first two hours at the site. It had since slowed put remained steady.
At 12:30 p.m. 662 precinct residents had cast ballots at the site, McDaniel said. Of the 529 left on the site's registration books who hadn't yet voted, about 80 voted in the hour since that count, he said.
Although there were no lines, the site had a steady stream of voters that had at least one of its machines in use. One of those coming to the site to vote was first-time Jed Sides.
"I just grew up a little bit and now know better," the 22-year-old said of his first voting experience.
First-time voters like Sides helped establish a record voter registration numbers in Johnson County But even on Election Day it's not known how many registered voters there are in Johnson County.
Sarah Horn, election systems manager for the Johnson County Election Office, said there was more than 363,000 registered voters in the county. Just how many more she doesn't know because she didn't have time to tabulate all the late registrations sent to the county by the Kansas Secretary of State's Office.
"I have the number is the computer, but I haven't been able to work with them," Horn said. "There's just too many things to be done."
This county broke the record set in the 2004 presidential election of 348,000 registered voters.
Things did seem to be going well at the polls, Horn said. Much of that could be because of the number of county residents who voted in advance.
Horn said more than 86,000 residents came to early voting sites and another 60,000-plus mail-in ballots were issued. She had not had an opportunity to update the number of returned mail-in ballots, she said.
Those ballots were being counted Tuesday and the election office was looking to post advance voting totals from about 8 to 8:30 p.m., Horn said. The election office is also planning to update numbers before 10 p.m. for news casts, she said.
Johnson County polls opened at 6 a.m. today and anyone in line at 7 p.m. will be allowed to vote, Horn said.