Williams breaks own school record but misses out on medal in pole vault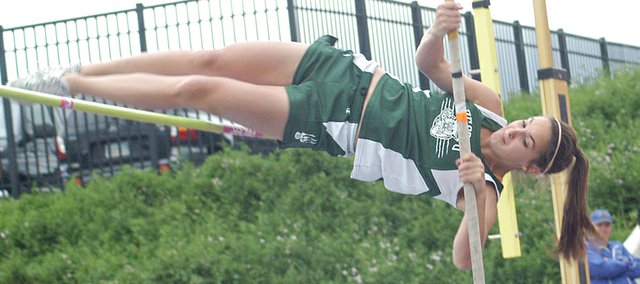 Sometimes medals might not be the sole measuring stick by which an athlete should be measured. School records, personal bests and season bests are also special accomplishments to athletes at any level, as evidenced by Cheyenne Williams' wide grin after her performance in the pole vault Saturday at the state track meet.
Williams vaulted 10 feet, an achievement that satisfies all three accomplishments mentioned above.
After struggling to accomplish the feat all year - it was her goal all along - Williams did so on her first attempt at the height.
"It was a big relief, because it's my senior year, my last meet, and I wanted 10 all season," Williams said. "I'm really glad, I was cutting it close."
One factor that Williams and coach Brian Dinkel both acknowledged had a lot to do with her accomplishment was a new pole she started jumping on the Wednesday previous to the state meet. The pole was approximately 10 pounds heavier and a little longer than her old pole, providing increased extension and more launch than her pole of old.
Before the trip to the state meet, coaches got in contact with Eudora High School, which loaned the pole to De Soto for Williams' use.
"It would have been nice if we'd have had that pole earlier in the season," Dinkel said. "It was a little bit stiffer for her and when she went up on it, it helped throw her over the bar a little bit better."
The results were evident immediately. She cleared 9-06 on her first attempt, then turned around and also cleared 10-00 on her first attempt. That prompted a broad smile from both Williams and pole vault coach Peter Harley, and from the rest of the De Soto track team watching from up in the stands.
"You could see the smile on her face from the stands and you could see the smile on coach Harley's face from the stands," Dinkel said. "You could just tell they were relieved and happy and even three or four hours later they were still smiling about it, and that's pretty cool to see."
The vault claimed for Williams the De Soto High School record that she previously set at the Mill Valley meet, and ensures that she'll be the possessor of the record for a longer period of time, whether it's a couple minutes longer or multiple years.
At 10-06, Williams appeared high enough to clear the bar but nudged it off the stand as she tried to make her way over the bar. No attempt after that came as close.
She finished the event in 12th place, but that was overshadowed by her own joy of one-upping herself on her place in De Soto track history.
"It's nice, fun. I like it," she said of holding the school record.