Starside ends year with book signing frenzy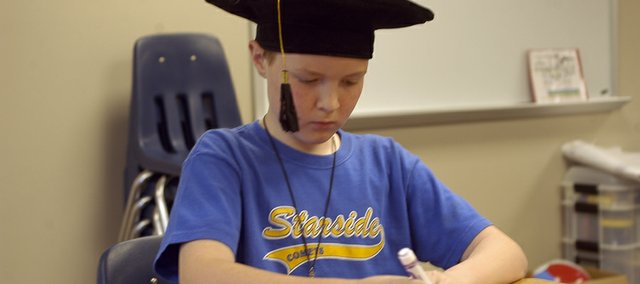 The same question echoed last Thursday through the halls of Starside Elementary School last Thursday.
"Will you sign my yearbook?" first- through fifth-graders asked each other on their last day of school.
Signatures and well wishes written in colorful markers and pens covered the inside of the students' yearbooks, and some T-shirts.
Fifth-grader Kenna Hall had a flurry of excitement surround her once her classmates discovered they could sign her shirt.
"My mom said I should take it and have people sign it," Kenna said.
Some students just signed their names while others wrote a short message. The most popular one was H.A.G.S., meaning have a good summer.
Fifth-grader Kylee Cronin was one of the students flocking to Kenna's T-shirt. She said she was sad and excited about leaving Starside to attend Lexington Trails Middle School next year as a sixth-grader.
"I will miss my teachers most," she said.
But for the time, Kylee's mind was set on getting others to sign her yearbook, as she had a lofty goal.
"I want to get everyone to sign it," she said.
While the halls were filled with bustling students, fifth-grader Erick Sherman took advantage of a quiet classroom to write retiring Principal Paula Hill a goodbye note.
"See you later Mrs. Hill. I will miss you. You are an awesome principal," it read.
As he wrote his note, the tassel on the graduation cap he wore bobbed up and down along with his head. The hat was a reminder that Erick wouldn't be back at Starside the following year.
"One of my friends dared me to wear it at one of my parties I threw ,and he forgot to wear his today, though," he said.
Erick said he is both excited and nervous about attending Lexington Trails next year as a sixth-grader.
"I'm a bit nervous about middle school, but I know it's going to be really fun there," he said.
Kenna and Kylee said they were sad that they wouldn't get recess anymore, but Erick said it didn't bother him.
"I'm sort of fine with that," he said. "They give you a whole entire hour to talk to your friends and play around with them."
As he finished his note to Hill, he went back out into the hallway to catch up with his friends.
"Since this is my last day at Starside, I am going to try to make it a really good one," he said.
More like this story