Relaxing banner sign regulations proposed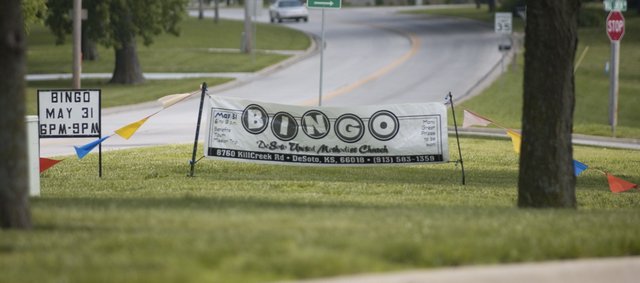 Although there is still nothing in writing, the De Soto Planning Commission agreed Tuesday to change the city's sign ordinance that would relax regulations on banner signs.
The issue was one of three on the planning commission's agenda that required a public hearing. And although the banner sign issue and the future land use plan for the 95th Street corridor drew considerable interest at past planning commission or De Soto City Council meetings, only one person was present to speak on the issue.
The sign issue grew from an April city council meeting when employees of JT's Sports Bar and Grill asked that the city grant businesses more flexibility in the use of banner signs. Existing regulations restrict display of banner signs to 21 days twice a year.
With that request, the council agreed to place a moratorium on the enforcement of the banner sign regulations while planning commissioners reviewed the issue.
Last month, many of those who spoke at the city council meeting shared their concerns with planning commissioners.
In response, De Soto city planner Linda Bohnsack completed a report and recommendations she shared with planning commissioners that found the city's banner sign regulations were in the mid-range of restrictiveness.
Bohnsack's recommendation was that if planning commissioners chose to relax the regulations, they require all permits for all sign displays. It would be impossible for city code enforcers to keep track of more and more frequent banners without permits, she said.
The issues, Bohnsack said, was how long banners could be displayed and how frequently. What the city had to guard against was that banner signs becoming permanent advertising instead of calling attention to a special event, she said.
As discussion began on duration and frequency, Planning Commissioner Rick Walker suggested a different track. A business should be allowed to display banners 60 days a year - later revised to 90 days - with no sign displayed for more than 21 days at a time, he suggested. It would be up to businesses to decide how many times signs were displayed.
The proposal was acceptable to Larry Cox, who attended the meeting as a representative of the De Soto United Methodist Church. The congregation's concern was it be allowed to place banners six or more times a year for special events, he said.
Other elements of the banner sign regulations Bohnsack was asked to include for consideration at the planning commission's June meeting were establishing the maximum size of the banners at 20-square feet, allowing a message on both sides of the banner and restricting a business to one banner permit at a time.
With little discussion and no public comment, planning commissioners approved future land-use maps for the 95th Street corridor, a 1,650 acre area bounded by Lexington Avenue on the west, 99th Street on the south, Cedar Creek on the east and K-10 on the north.
The planning commission's quick approval and the lack of public comment concerning a document key to what is seen as one of De Soto's important future commercial development areas can probably be attributed to the process used to create the map.
The land-use map recommended for approval was created from ones developed at two public workshops attended by city council members, planning commissioners and residents and property owners of the area.
All the maps developed in the workshops started with coloring the 95th Street/Kill Creek Road intersection red for commercial and surrounded that with various amounts of pink for mixed use development - a designation that allows commercial, business park and multi-residential uses.
And like the earlier maps, the present parkland on Kill Creek is preserved and other steeply sloped or bottomland acreage along that creek and Cedar Creek to the east are preserved as parkland. Indeed, the nearly 450 acres set aside for parkland in the study area exceeds any other single use.
The approved map also would preserve all current large-lot subdivisions in the study area to low-density residential of no more than one home per acre. That area that could be served by city sewers in the future was designated low-to-moderate residential of one to three homes per acre, Brungardt said.
At the start of the meeting, planning commissioners observed a moment of silence in memory of Bob Friday. The 15-year planning commission veteran who died earlier this month was remembered for often reminding fellow planning commissioners that they were "raising the bar" with their actions.