Boys take fifth place, girls medal relay team at state meet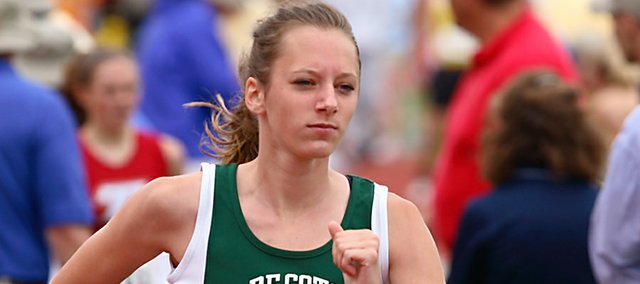 It may not have been what the De Soto athletes had in mind heading into the state track meet, especially the boys team, but the fifth-place finish on the boys side and multiple personal records on the girls side was still cause for coach Brian Dinkel to remain upbeat.
"I'm happy with it," he said. "We didn't reach our goal. It shows our kids, especially our young kids that if they go down there and compete the way they are capable, there's no reason they can't bring home one of those trophies."
Those trophies he referred to would be team trophies, and the boys finished 12 points shy of claiming one Friday and Saturday at Cessna Stadium on the campus of Wichita State.
Had a couple of things fallen into place, they may have done just that.
On the first day of action, the main setback to the boys' trophy hopes occurred in the preliminaries of the 1,600-meter relay. The team of Andre Linzy, Jeff Bowen, Jamel Townsend and Jordan Riffel appeared in control of the race. Linzy got out to a sizable lead, handed the baton to Bowen, who maintained that lead for De Soto.
Then the unthinkable happened in a lengthy relay race that doesn't depend on swift baton exchanges. Bowen reached out to hand the baton to Townsend and it fell to the track, causing the crowd to emit a collective groan and Linzy to drop his head in disbelief. Runners behind the two De Soto runners then kicked the baton off the track, disqualifying the foursome halfway through the race.
"That's the first time it's ever happened," Bowen said. "I was handing it off and I felt the grip but when I let go I guess he didn't have full control of it yet. We were (mad), the other guys weren't really (mad)."
Linzy offered another reason for the mishap.
"It was really hot, so our hands were all sweaty and the baton was slippery and just slipped out," he said. "I almost dropped it getting out of the blocks."
Whatever the reason, the drop cost De Soto valuable points as the teams that took points in the event were teams that Dinkel thought the Wildcats could stay up with. Baldwin won the event in a time of 3:25.52.
"The thing that stunk about that was you look at the top three or four teams and those are teams we've beaten when we've gone head-to-head with them," he said. "At that point in time, everybody on the guys team was kind of down and they saw any chance of winning a state championship go out the window right there. And they saw their chances of winning a trophy was going to be pretty tough, too."
After that, Linzy did his best to improve those chances, nabbing a silver medal in the long jump and 200-meter and gold in the triple jump.
Riffel finished third in the 400, recording a personal best in the preliminaries with a time of 50.07. He finished in 50.20 in the finals, exactly half a second behind the event champion. The two athletes that finished ahead of Riffel, a freshman, were juniors so he took solace in the defeat.
"I feel good. I accomplished a lot," he said. "I'm pretty satisfied with third place at state."
Dinkel echoed those sentiments.
"I thought Riffel ran real well. He did what he was supposed to do. He got out and tried to put himself in the lead going down the straightaway and those guys just had a little bit more strength than he did," Dinkel said. "Being third place in the 400 as a freshman is a pretty impressive thing."
The other medalists for De Soto were on the girls side, where the 3,200 relay team of Shelbi Petty, Chesney Burgweger, Beth Reichenberger and Trish Roberts took sixth place in 10:12.31, .49 of a second behind the fifth-place team.
Dinkel said he was most impressed with the maturity of the team, which has two members - Petty and Reichenberger - who are freshmen.
"They didn't even act like they were all that excited after they ran," he said. "They just went out and ran a race and did a good job and, 'more to come next year,' which was pretty cool."
Mark England, although he missed the medals by one place, recorded a personal best in the 100 with a time of 11.33, .11 better than his previous personal best. The seventh-place time was also 11.33, so England was denied a medal by thousandths of a second.
"He wasn't real excited about it, he thought he could have done better," Dinkel said. "But I was really proud of that kid."
Also adding to Dinkel's satisfaction were two personal bests - one of which was a school record - by Burgweger and Cheyenne Williams.
Burgweger leapt 33-04.75 in the triple jump for a personal best. Williams went to new heights in the pole vault, breaking her personal and school record with a vault of 10 feet.
More like this story