Calling it a career at 32 years
Monticello Trails Family and Consumer Sciences teacher has seen plenty of change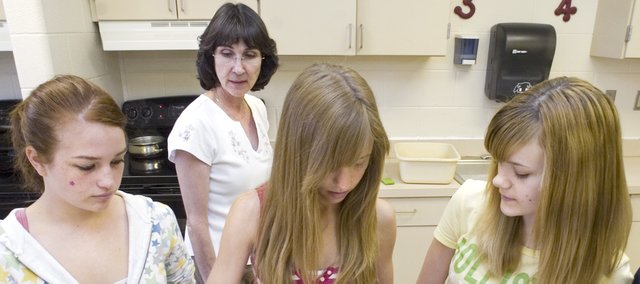 When Marie Nave first started teaching at De Soto Junior High, her classes were separated by gender.
Girls took a course called "Home Economics" while boys took a course called "Bachelor Basics."
Now Nave teaches Family and Consumer Sciences, which is the second-most popular exploratory class at Monticello Trails Middle School, and her classes are about 50 percent each boys and girls.
Nave, who is retiring after 32 years of teaching in the district, still remembers the day she drove up for her interview from McPherson College in McPherson, Kan.
"I was the only graduating senior and my professor let me borrow her car," Nave said. "She was wonderful to me; she was my mentor. I didn't have a car and she said take mine, and that's three hours drive here. That was back in the day where we didn't have cars. The rich kids did, but not many of us did."
In her 32 years, Nave has seen a lot of change.
"My interview in De Soto when I drove up that three hours, it was dirt roads, one high school and one junior high. The class size was fairly small," she said. "I can't believe how much we've grown. It's very, very different from how we started. When I got my interview I thought this was out in the middle of nothing, but then I realized, my goodness, it is right by Kansas City."
Nave worked at De Soto Junior High for 19 years in the building that De Soto City Hall now occupies. When the district opened Monticello Trails Middle School, she split her time between the Shawnee school and Lexington Trails Middle School until enrollment was large enough for her to stay at Monticello Trails.
FACS as the course is now called is a lot different than her original Home Economics and Bachelor Basics classes, Nave said.
"It's a de-emphasis on cooking and sewing," she said. "That's still in the class, but we have consumer, which deals with pricing and purchasing. Childcare is involved now. We still do the cooking and sewing but it's with more of an emphasis on nutrition and family."
Nave grew up near Los Angeles and comes from a family of teachers. Her dad was a math professor, her mom was an English teacher and her sister also is a teacher. She loved to sew as a child so it seemed a good fit to become a teacher.
"I'm from the old school. I mend, I sew, I alter," Nave said. "I use my sewing skills as much as any skill. I love to sew. It's my favorite part of the class. Sewing is making a come back, too."
When Nave became eligible to retire, she decided it was time to leave the profession and spend time with her husband, who retired about 12 years ago.
"I want to go while I still enjoy it," she said.
Nave said she was looking forward to having time to organize her house and work in the yard, but she will miss her routine, her colleagues and her students.
"I love the age group," she said. "I would never want to teach any other grade than middle school. I'm on the same level with their sense of humor. I find them fun."
More like this story