Tracksters ready for league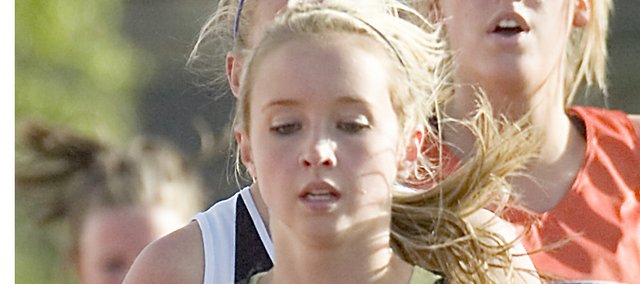 Judging strictly by results, a person might look at the De Soto track team's performance last Friday compared to recent weeks and surmise they didn't perform well.
The Shawnee Mission North Relays, however, are very competitive and feature some of the top talent around. Organizers of the meet asked that certain marks or times be met before an athlete entered into an event.
Despite the superior level of the competition, coach Brian Dinkel was pleased with how his athletes performed.
"Overall I thought we did pretty well," Dinkel said. "For the most part sprints and jumps came out and competed really well."
As a team, the De Soto girls finished 26th out of 30 teams, while the boys placed 13th out of 32 teams.
The highlight of the night was senior Andre Linzy's performance in the long jump. Linzy leapt 24 feet even, which set the meet record and De Soto's school record. It is also the second longest jump of the year so far in Kansas, in all classes. The jump improved upon Linzy's previous personal record by 13 inches.
"That was pretty impressive," Dinkel said. "Everything just kind of came together on that jump. It was pretty cool."
Linzy also was less than a half of a second from making the 200 finals heat, and the competitiveness of his preliminary heat may have played a role in that.
"He ran away from everyone in his heat and he wasn't really pushed," Dinkel said. "Had he been in another heat he would have made the finals, just because he was probably 20 meters ahead of everybody in his heat."
Also contributing to the boys points total was sophomore Jordan Riffel. He placed fourth in the 400 with a time of 52.36 seconds. Although the time was slower than Riffel's times in recent weeks, Dinkel was pleased with the performance because the wind was blowing hard enough to affect the entire field of athletes.
"Not a great time," Dinkel said, "but Jordan ran pretty well."
Jordan Slater, like Riffel only in the pole vault, didn't let the wind affect his performance. Slater captured a personal record of his own with a vault of 12 feet. That beat his old best mark by one foot. The performance wasn't good enough to place at the meet - it was the minimum, qualifying height - but it was a possible building block towards success at league, regional and state meets.
Jamell Townsend, who has been a key point-winner for the boys team, was held out of the meet because he's experienced some tightness in his quadriceps and Dinkel wanted to give him time off to heal.
Dinkel also gave Barbara Hartz the meet off to rest her legs.
On the girls side, points were harder to come by. The team tallied four points on the day, all won by Ellie Sheridan with her fifth-place finish in the 1,600. She finished with a time of 5:28.21.
The normally competitive girls distance runners had an off night by Dinkel's standards, but he said he wasn't concerned.
"It seems like that happens about this time every year," he said. "But the good thing about them, every year the way their training is set up, they respond at league, which is important, and regionals. They always come around, so no worries there."
He also said that distance coach Chris McAfee always does a good job making sure his athletes peak at the right time.
"He was disappointed and frustrated, but he's a good coach," Dinkel said. "He'll have them right back where they need to be by Thursday."
Thursday is when it all begins to matter a little more. The Frontier League meet will take place at 3:30 p.m. Thursday at Spring Hill.
"I'd like to place in the top three, both boys and girls," Dinkel said. "If our kids go out there and compete the way they are capable, there's no reason we shouldn't finish that high."
Perhaps facing that superior level of talent at Shawnee Mission North will better prepare the Wildcats for a league meet that is also littered with top-notch talent.
"It's still a pretty tough league," Dinkel said. "Eudora is always pretty solid, Baldwin is always pretty good, and Gardner, which is a big school and they're going to be loaded. All events are going to be pretty competitive."
The Wildcats may be getting used to that.