Top four the goal for state
Edwards and Konetzni qualify for state, expect higher medal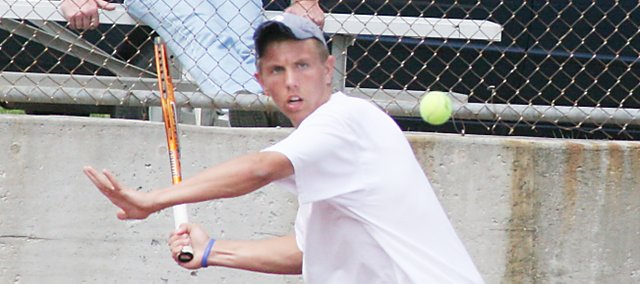 De Soto's singles tennis players are back where they were a year ago, but this time they desire better results.
Returning state placers, Andrew Konetzni (seventh) and Matt Edwards (eighth), qualified for the state tournament Friday in sub-state action.
After advancing into the semi-final round - which clinched both a state berth - they found themselves matched up against each other for the second time in as many days. Konetzni beat Edwards Friday and advanced to the finals. He lost in the championship, 6-3, 4-6, 5-7 to Santiago Padilla (8-1), a Kansas City Piper exchange student from Ecuador.
"Unfortunately he didn't close out the match strong. He could have beaten him," coach Michael Sullivan said. "I think if you ask him he probably feels that he should have beat him, and I do too."
Edwards got his shot at Padilla Thursday at the regional that preceded sub-state, and they were tied in the regional championship when inclement weather cancelled the match. Edwards controlled the first set, winning 6-2, before Padilla bounced back and took the second, 6-4. The two players were tied at 1-1 when lightning struck nearby and the match was called.
Since the regional tournament was only a qualifier for state, the match was never finished. By way of a vote at the sub-state tournament, Edwards got a two-seed behind Padilla while Konetzni was the three, meaning the two were on the same side of the bracket.
"In sub-state, I was pretty unhappy about the seedings," Edwards said.
But Edwards and Konetzni may get another shot at Padilla, as De Soto's two singles players will compete in the 2008 4A State Tennis Tournament for the second consecutive year. The experience of having been there would seem to present an advantage, but Sullivan and his players realize there are negatives, too.
"It could be an advantage and disadvantage because there's going to be people gunning for them," Sullivan said. "But some kids, when they get into the postseason, if they've never been there in that spotlight, some will play a little nervous, play a little tense."
Edwards offered another reason why last year's success could have an adverse effect.
"There's pressure to do better," Edwards said. "So that might make it a little more tense."
But having faced most of the opponents throughout the year gives Konetzni confidence.
"We know who is going to be there, and we kind of know what their game is," Konetzni said. "So we should be pretty confident that we know what to do."
Edwards, a junior, and Konetzni, a sophomore, both said their goal is a top-four finish. Edwards' record stands at 27-5, while Konetzni's is 27-4.
In doubles play, Brendon Hudson and Trevor's seasons came to an end when they lost to the same Spring Hill team they defeated the day before, 6-4, 7-6 (1). They finished the year 14-9, and both return next season.
"They just didn't have a very good day. I think their nerves had a lot to do with it, because they started playing better as the match progressed," Sullivan said. "They missed shots they normally make and I just think they put a lot of pressure on themselves, because they knew, 'This is for state. This is a big deal.'"
The "big deal" continues around noon for Edwards and Konetzni. Player introductions will be at noon, and play will start shortly after.
Both De Soto players would like another shot at Padilla.
"He's very beatable," Konetzni said. "I wasn't really making errors, he just stepped it up and I didn't fix anything, so he just came back."