One more tune-up in store for golfers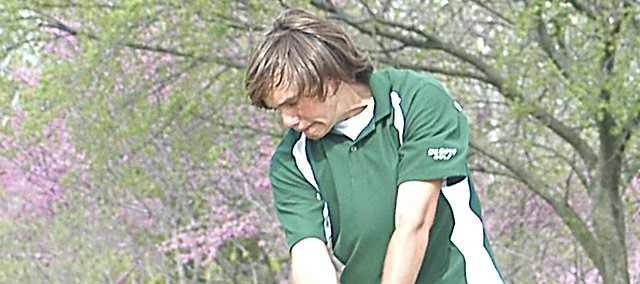 The golf team - in its final tune-up for regional play - saw the gap between it and superior opponents widen a little last Thursday at Perry Country Club.
The Wildcats finished 10th out of 12 teams at Perry and were led by Charlie Modereger's 83.
"I didn't think we played all that bad, but some of the other teams definitely played very, very well, teams that I thought we should close the gap on a little bit more," coach Chad Brecheisen. "Basehor-Linwood, we've been within 10 strokes of them all year. They really widened the gap on us, and I don't really understand how they did that."
Basehor scored 313 as a team, while De Soto notched a 352. The Wildcats played without their No. 3 golfer, Scott McKechnie, who underwent an appendectomy last week. That meant Drew Roddy, Brett Williams and Kevin Brashears all bumped up a notch and Ashley Sweeney saw her first varsity tournament action of the year.
"She played fairly well," Brecheisen said. "I think next year when we have a girls team she's going to have a shot at qualifying for state as an individual."
One person who has led the Wildcats for most of the season is sophomore Alex Crall. He struggled at Perry, shooting a 43 on the front nine and a 44 on the back nine for a score of 87.
Charlie Modereger picked up his team by shooting a 40 on the front nine despite opening the tournament with a triple-bogey, two pars and a double-bogey.
"Those kind of killed me a bit," Modereger said.
But they didn't turn out to kill a good day for Modereger, his coach said.
"When you start off with triples and doubles and you're still able to put an 83 together, you've played well," Brecheisen said. "You've played very well."
Freshman Brett Williams finished second on the team with an 86.
Jefferson West, who will be in De Soto's regional tournament, won the team title at Perry with a 309.
Brecheisen said Topeka Hayden is the early favorite to nab one of the two state berths as a team. Judging by the results of the Perry tournament, De Soto may have to play some of its best golf to stand a chance of placing in the top two among teams like Topeka Hayden, Jeff West and Basehor.
Jeff West's sixth golfer shot an 89 at Perry. Three of its golfers, including No. 4 and 5 golfers, recorded 77s.
In Kansas 4A rules, the top-two teams advance to the state tournament. The top-five individuals who are not on one of those teams also advance.
In order to have a shot at doing so, Brecheisen said individuals usually have to shoot in the low 80s. But he thinks one of De Soto's golfers can do that.
"I think we are definitely going to still get some people to state," Brecheisen said. "It's just how many? Not saying we don't have a shot (as a team), but we're really going to have to put a lot together, especially missing Scott. There's no room for error."
The regional tournament starts at 8:30 a.m., and there will not be a shotgun start meaning all groups of golfers will have tee times. The first tee time is set for 8:30 Monday at Bellevue Country Club in Atchison, Kan.
Having participated in his first regional last year as a freshman, Crall said he had an advantage this year.
"I know what to expect and I have a goal, to make it to state," he said. "Last year I was just along for the ride and just trying to do my best. I have more confidence to be able to get to state."
More like this story