Eudora split caps season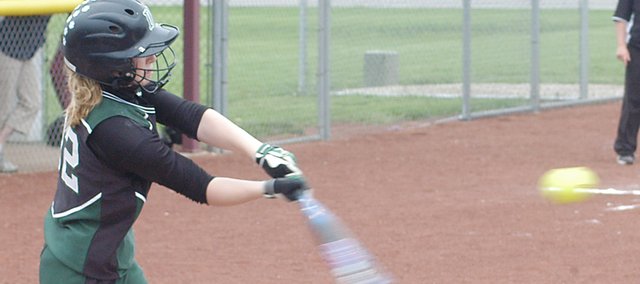 A late season string of victories was capped Tuesday night by De Soto's double-header split with Eudora. The Wildcats stayed close but eventually dropped the first game 3-1, and then they rebounded to handle the Cardinals 4-1 in the nightcap.
It was the seventh win of the season for a team that struggled mightily at the beginning of the year.
"It's a great cap on the regular season," coach Melissa Wible said.
Senior pitcher Jessica Pennington allowed three runs in the first inning of game one, but after that she found a rhythm and worked in her change-up very effectively to throw off Eudora's timing.
In the sixth inning, Pennington helped out her own cause by hitting a single to score Jordin Burford. The De Soto defense, particularly catcher Megan Sterling, was superlative to keeping the game within reach.
With hits coming few and far between, the Cardinals tried to steal their way around the bases. Sterling made sure that didn't happen, gunning down two runners attempting to steal second base in the sixth inning.
On the second play, shortstop Burford and Eudora's runner collided but Burford managed to hold onto the ball for the out.
"In the first game we played great, but I think we were just a little too aggressive on the bases," Wible said.
De Soto shared a common problem with Eudora as Cardinal catcher Evan Folks threw out several Wildcats who tried to test her arm, including Brittany Brewer and Cassi Welch on consecutive plays in the seventh inning.
De Soto attempted a double steal with Brewer and Welch on second and first, but Brewer was caught trying to slide into third. On the next play, Welch was tagged out in a rundown between second and third. The Wildcats base-running errors squashed their chance at a seventh inning rally.
Getting so close and not coming away with a victory seemed to inspire De Soto as it came out with a mission in game two. The Wildcat offense came alive and pitcher Katie Williams was stellar all evening.
"In the second game we were just hitting the ball hard and we held on to the lead thanks to Katie's pitching," Wible said.
Williams surrendered one run in the first inning, then shut down the Eudora offense for the rest of the night.
"I had a lot of confidence," Williams said. "My pitches were breaking a lot and they were hitting the corners, which always helps."
Williams consistently went to the outside corner on the Cardinal batters, where they couldn't get any solid contact. Tuesday night's performance was the best Wible has seen out of Williams all year.
"Throughout the season she has gotten better and better," Wible said. "She even has the change-up working now so we're really excited about that."
On a night when Williams was baffling the opposing batters, four runs was more than enough to get the win. Instead of spreading them out, De Soto piled up its runs all in one inning.
Williams, Hayley Brown, Brewer and Kyndel Reeves all came around to score in the third. Freshman Hannah Jokisch knocked in two of those runs with a double.
"Once one batter gets a good hit, then the rest of them get the confidence to go up and do the same," Wible said of her team's streaky hitting
In the seventh inning, Reeves, playing in right field, came sprinting in towards the infield to wrap her glove around the final out. De Soto then celebrated its regular season finale.
"I think we need this win, as a team, just to get back this feeling," Williams said.
Wible said there's plenty for her team to work on before regionals, like smarter base running, but the confidence is as high as it could be heading into the postseason.
De Soto (7-12) will face Tonganoxie (7-10) at 1 p.m. Monday in Eudora.