Blasting off
Weeklong space camp encompasses all subjects for Prairie Ridge students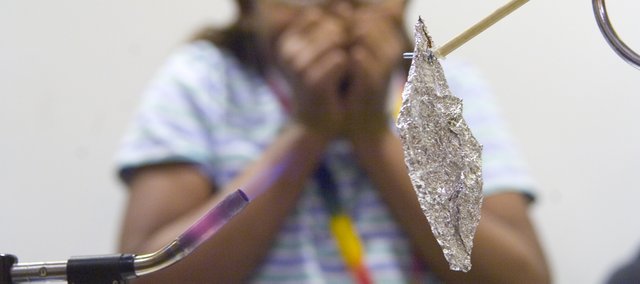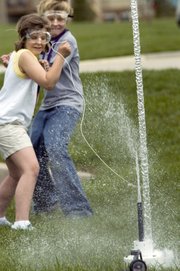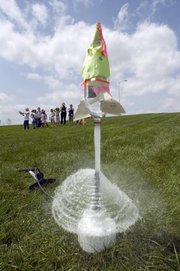 Third-grader Jay'on Burgin couldn't control his emotions Thursday.
"This is making me cry," he said, eyeing his team's thermal shield made of two pieces of aluminum, copper, a dowel rod, a screw and hot glue.
"Ten more seconds," third-grade teacher Carrie Mugridge said. "Can she hold? Can she make it back to Earth safely?"
She did, beating the goal time of 3 minutes.
"Yes!" Jay'on and his teammates, third-graders Aubrynne Russell and Averi Drum, shouted.
As part of their weeklong space camp, Prairie Ridge third-graders were assigned the task of making a model thermal protection shield for a space shuttle.
Mugridge said the shield is used on space shuttles to protect the craft during re-entry, when temperatures can reach more than 3,000 degrees Fahrenheit. To test the durability of the model thermal shields, a parent volunteer used a blowtorch to heat the shield. Most groups' models lasted between 30 seconds and one minute.
"I didn't think we'd last that long," Averi said of her team's 3-minute record.
Aubrynne said she didn't think they did anything special, except for one thing.
"I tore our aluminum into strips and put it around the copper," she said. "I just thought it would fit better."
After all student groups tested their shields, Mugridge let the students in on a secret.
"The key is to have air in there," she said.
The groups had a chance to try again with new pieces of aluminum foil.
"Our idea was to cover the hot glue," third-grader Sarah Olson said of her group's strategy. "We're trying to fold it and make air stay in there."
Third-grader Jacob Klaas said his team initially tried a dome, but they were planning on something different for the second attempt.
"Our strategy is to cover up the glue in like a little shield so the shield can protect the glue," he said.
Last summer, Mugridge attended a space camp for teachers in Huntsville, Ala., where she learned the activities that she brought back to Prairie Ridge.
Third-grade teachers dedicated the whole week to teaching students about space in every subject area.
"It's called interdisciplinary curriculum," Mugridge said. "All the reading, math, writing, social studies and science is centered around it."
Another experiment involved creating a rocket out of a two-liter bottle and water. A parent then pumped each rocket with about 60 pounds of air to see how far the rocket would go.
"These are the fins to help it fly," third-grader Jason Kirkendoll said as he pointed to his team's rocket. "We made them all with our name on it."
The students got to decorate their rockets with colored paper and stickers, but Jason's team had a reason behind their design.
"I put stars on it because it's space," third-grader Caytlin Knight said.
There even were flower stickers.
"There are flowers because they are trying to make plants on the moon and Mars," third-grader Zoe Mulkey said.
The space camp wasn't all for fun. Students had a chance to apply for two scholarships to space camp in Huntsville. One was available because of Mugridge's trip, and Deffenbaugh Industries paid for the other scholarship with a $1,000 donation.
Third-graders Tristen Phelps and Camden Davis were selected as scholarship winners and will attend the camp June 8-13.