Cats win big to close out regular season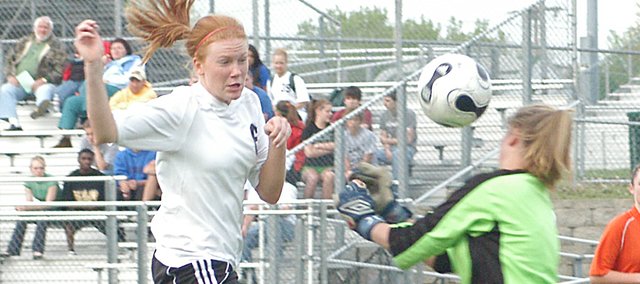 Led by four goals in the first half by senior Nicole Radcliffe, the De Soto Wildcats wasted little time jumping out to an early lead and cruised the rest of the way, defeating Bonner Springs, 10-1, on senior night.
The scoring started when Radcliffe put a shot into corner of the net off an assist by Danielle Price just under three minutes into the contest. Before the 20-minute mark of the first half, Radcliffe had scored all four of her goals and De Soto led, 5-0.
Price also had four goals on the night, three of which came in the first half. Carly Stanley and Kelsey Fisher each added one goal apiece for De Soto. It was the first goal of the year for Fisher.
"I wasn't real happy, actually, with the first half. I thought we had too big of a gap between our midfield and our back, we didn't have any support play, we weren't pressuring very well, we didn't use our outside mids," coach Darren Erpelding said. "The second half, we played much better. We had a lot more shape."
The win wrapped up the regular season of De Soto's schedule and pushed its record to 8-6-2.
Next up for the Wildcats is the regional tournament May 12 through May 15. Time and location of the first round is yet to be determined. Read more in Thursday's edition of The De Soto Explorer.
More like this story