Track team continues on roll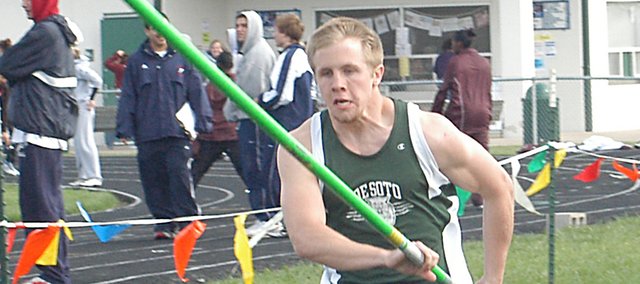 The De Soto track teams - girls and boys - continued their success Friday at the De Soto Invitational meet. Led by a strong running performance by Jordan Riffel, among others, the boys team placed second at its home meet. The girls, also led by strong running, won the girls side by a margin of 168 team points.
The strong performances in recent weeks by the girls team is a welcome sign of success to coach Brian Dinkel.
"The girls, I honestly didn't think we were going to be that good team-wise," Dinkel said. "We've had kids score in things I didn't think they'd score in this year. It's been a pleasant surprise."
The most notable performances on the girls side were the Wildcats' dominance of the mile, and Lacey Erickson's time in the 3200-meter run.
In the mile, De Soto comprised four of the top-six place finishers. Shelbi Petty led the way for De Soto, finishing second in a time of 5 minutes, 32.2 seconds. Ellie Sheridan, Chesney Burgweger and Trish Roberts came in third, fourth and sixth, respectively.
"We know our girls mile runners are going to be pretty solid about any time they go out," Dinkel said. "Being young, sometimes they get nervous and they don't run the way they are capable of running but as they mature they are going to keep getting better and better. They are a good group of girls."
Erickson, a freshman, won the 3200 in a time of 11 minutes, 55.86 seconds. That time improved upon Erickson's previous personal record by about 21 seconds.
"That's a pretty solid mark. She keeps getting faster every week, so I'm kind of excited to see what it's going to be like when we get to regionals and (beyond)," Dinkel said. "She's a pretty good little runner."
On both the girls and boys teams, De Soto's 4-by-800-meter relay teams took first place. The girls team of Sheridan, Erickson, Roberts and Burgweger finished in a time of 10 minutes, 29.05 seconds, which beat the second place team from Olathe Northwest by 14.93 seconds.
Zach England, Lucas Slater, Colin Jokisch and Trevor Burns manned the baton for the boys and finished in 8 minutes, 48.48 seconds, beating Eudora by 17.59 seconds.
Andre Linzy continued to win meets in the long jump and triple jump with leaps of 22 feet, 1.5 inches and 42 feet, 2 inches, respectively.
Perhaps most impressive of all performances for De Soto, freshman Jordan Riffel turned in his best 400-meter time of the year at 51.11 seconds. The mark currently stands as second best in 4A in 2008.
Starting the year off, Riffel was a runner primarily focused on the 100 and 200-meter sprints but has found a niche in the 400.
"He's fast in the 100, but in the longer distances he just keeps getting faster and faster and we tried him out in the 400 and realized how good he was," Dinkel said. "And I think he realized how good he was and he's starting to like it."
Riffel echoed those sentiments, and said his goals are lofty the rest of the way. The De Soto school record in the 400 stands at 50.6 seconds, not too much faster than Riffel's time Friday.
"The success has kind of changed the emphasis a little bit," Riffel said. "Definitely to break Casey Johnson's record is what I'm shooting for. Then (at state) hopefully coming in with another guy that will be even faster, I'll be able to be pushed a lot more."
Riffel and the rest of the Wildcats will have two more regular season meets to tune up before the regional meet. They travel to the Shawnee Mission North Relays Friday. Then the league meet is May 8 at Ottawa.
More like this story