Tennis geared up for regionals/sub-state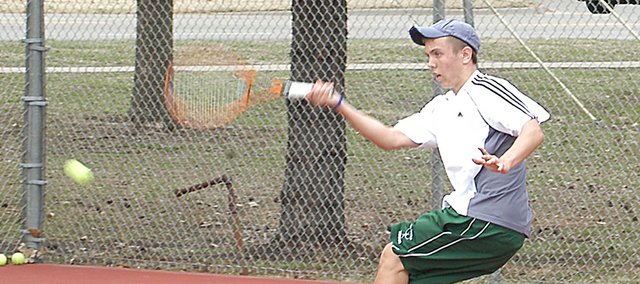 Usually high school athletic postseasons begin with either a regional or sub-state. Then qualifiers advance to the state competition level.
With this spring's boys tennis season, the state is trying something new at the pre-state level, and judging by its performance at its own invitational tournament and throughout the season, De Soto's team could be well prepared for multiple state qualifiers.
"Like any other year, the goal is to qualify as many guys as possible," coach Michael Sullivan said. "We had three qualifiers last year, and don't get me wrong I'd like to qualify all four, but three would be great. Four would be awesome."
In order to do so, singles players and doubles teams will have to advance through a two-tiered round consisting of both a regional and sub-state.
Beginning at 9 a.m. Thursday, De Soto will take part in a regional Baldwin hosts at Baker University. Schools in the regional include De Soto, Baldwin, Kansas City-Piper, St. James Academy, Spring Hill and Topeka-Hayden.
The top four individuals, in singles, and teams, in doubles, then advance and compete at 9 a.m. Saturday at Topeka-Hayden. On that date the top four from De Soto's regional compete against the top-four (teams and individuals) from the Marysville regional, also played Thursday.
So getting to state means teams or individuals reached the semifinals of both their regional and their sub-state.
With the regular season completed, Sullivan expects both of his singles players, Matt Edwards (22-4) and Andrew Konetzni (23-2), to be seeded in the top three at the regional.
"The X-factor is we don't know about this kid from Piper. There's an exchange student from Ecuador who goes to Piper," Sullivan said. "I've never seen him. I've heard he's very good, but it'll (seeding) probably come down to voting."
In doubles, Sullivan will enter Brendon Hudson and Trevor Elmer (12-7), and likely the team of Matt L'Ecuyer and Joe Dvorak (5-9).
Final seedings were undetermined at press time.
All four entries arrived at their current records after taking fourth as a team at the De Soto Invitational tournament Saturday.
Konetzni won the singles title by going 4-0, defeating Shawnee Mission East's Zach Nass, 9-8 (3), in the championship. He beat Lansing's Ale Buogo 8-5 in the semifinals.
"Andrew, especially in the semifinals, was just awesome. He was just flawless," Sullivan said. "That's probably one of the best (matches) I've ever seen him play."
Edwards came in fourth and went 2-2.
Looking ahead, a change in postseason format has no effect on Sullivan's tactics for keeping his kids loose.
"For us it's just kind of business as usual. We don't do anything special this week," he said. "We try to get them to think about tennis in general and not get worried about it.
"If they get stressed about it then they're not going to play as good. My philosophy is, 'It's always just tennis.' Whether it's the regular season or the postseason, just try to get them to relax a little bit more."