Softball team wins four straight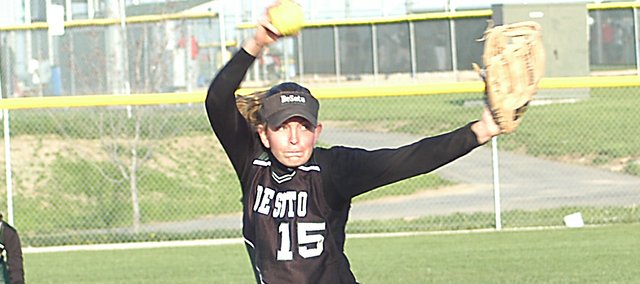 "Gladiator" is back. One day of it will not cut it, there will need to be six days of it, and counting. A tournament might even be imminent.
Gladiator, coach Melissa Wible said, is a rough-and-tumble game consisting of two teams spread out on the softball diamond. Wible hits the softball, and the skirmish begins. Both teams try to gain possession of the ball and throw it too teammates, passing it off and trying to score the ball in a bucket which is placed within a small circle. Only one person from each team can be in the circle at a time.
"That was here before I came," Wible said. "It's their favorite game and they can only play it if they win. It gets pretty intense."
The reward for the players possibly pales in comparison to how it feels to win ballgames. After opening 0-8, the Wildcats are now 6-10 and riding a four-game winning streak after sweeping St. James Monday and Gardner-Edgerton Tuesday.
"It's a world of a difference. Just everyone being excited to play and excited to win, I think that's helping us," senior Jessica Pennington said. "And the winning just helps the level of fun that we have at the games."
Pennington, the lone senior on the team, was honored in between games of the Tuesday doubleheader with a short presentation after getting the win pitching the first game. She had four strikeouts, and coasted to a 6-1 win after taking a 2-1 lead into the fourth inning.
"I was so excited for her. She pitched well, and she's pitched well the last two games," Wible said. "She's really stepped it up and she's been consistent and solid all year long.
"The kids count on her. And we're really going to miss her from our program when she leaves."
Pennington, who'd never beaten Gardner in her career at De Soto, was equally pleased with her and her team's performance in her last home game.
"That was everything that I could have hoped for to end up (at home) like that," Pennington said. "We played great as a team, and I feel like I pitched well, so that's the best gift I could have gotten."
After the one-run performance on the mound in game one, Katie Williams turned around in game two and shut the Gardner offense completely down. De Soto won the second game, 4-0, as Williams fanned 15 Gardner hitters.
"I felt more relaxed and more confident than I have this entire season," Williams said. "We're excited. We all have more confidence and the younger girls are feeling more confident playing at this level."
The improvement is evident and important to Wible with such a young group of girls. Last year with a squad of seven seniors, the team captured seven wins. This year with the one senior, the team is at six wins with four games to go.
"We're hitting the ball hard and scoring runs," Wible said. "The girls were saying, 'We're ready for our next game.'"
More opportunities arise for Gladiator starting Thursday, when De Soto heads to Ottawa for a doubleheader. Then the regular season concludes with a twinbill Tuesday at Eudora.
More like this story