Girls lose against T-birds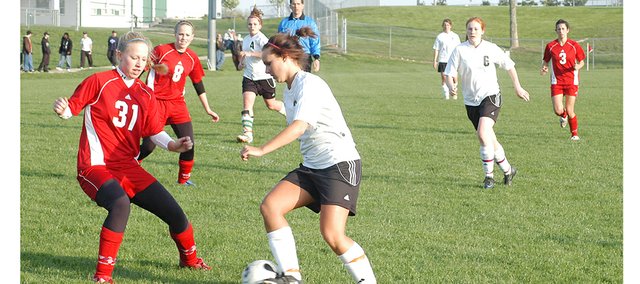 Playing a 5A team like Shawnee Heights, which has a record of 5-2-3, could cause some coaches and 4A teams to shudder in anticipation of being physically and athletically outmatched.
But De Soto coach Darren Erpelding doesn't want his team to think like that, and wouldn't use the difference in school size as an excuse for his teams 5-0 loss Monday night.
"A lot of times you play these schools, and on paper you're supposed to get beat," he said. "But that's why you play. It doesn't matter what they are and I really didn't feel like they were 5-0 better."
The game was played on De Soto's half of the field for the majority of the match, as the Wildcats managed three shots-on-goal compared to the Thunderbirds' 16 shots-on-goal.
The first goal came about 8 minutes, 40 seconds into the game for Heights, and it took a well-placed shot into the corner of the net from Alaina Hudson to get the T-birds on the board.
From that point on, the pressure applied against De Soto goalkeeper Jamie Zvirgdins wouldn't let up, as she had 11 saves, six of which she amassed by the midway mark of the first period.
"It was kind of depressing," Zvirgdins said. "I know there were a couple I could have probably gotten too, but it just wasn't really fun."
"I thought Jamie did a very nice job," Erpelding said.
Throughout the first half it was transition that seemed to hurt the Wildcats.
"When we have the ball, and say we lose it, we don't go to defense immediately. When they (T-birds) lose the ball, they are immediately back on, trying to get the ball back," Erpelding said. "And that's something I stress every single day at practice."
The shots on goal for De Soto came from Nicole Radcliffe, Elise Papp and Sarah Bell. Radcliffe's shot with 2 minutes, 15 seconds remaining was probably the best chance for a goal, but she pushed it wide of the net to preserve Heights' shutout.
"Right now, I'm getting the feeling that some of the girls just flat don't care. Whether we win or lose, they are just here, kind of putting in their time and that's what I'm afraid of," Erpelding said. "It was completely flat.
"They weren't excited to be out here, they weren't playing hard, there just wasn't much effort. There was a point in the game when we could hear birds chirping, because there was no intensity whatsoever."
Zvirgdins said her and other players on the team are doing their best to address that lack of intensity.
"We came out flat in the beginning and nobody seemed like they wanted to be there," she said. "We're going to try to start acting together (to combat it) and getting on people to make sure they are practicing like they're going to play."
The loss moves De Soto's record to 6-5-2 overall. Next up for the Wildcats is a 6 p.m. kickoff Thursday at home against Immaculata, a game Erpelding thinks the Wildcats should use to get back into the win column.
"It should be a game where we should come out and control them," he said. "We should dominate and we should win."