Cinco De Soto set for Saturday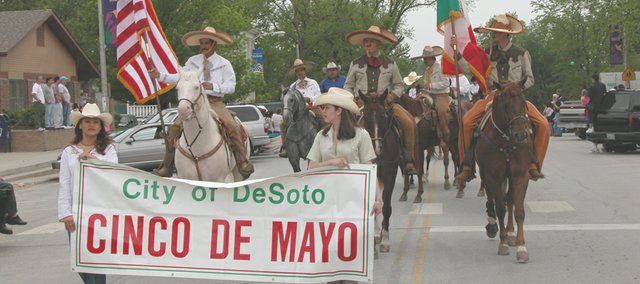 The return of the Cinco de Mayo celebration to De Soto is building a lot of excitement among residents.
The festival will start Saturday with an 11 a.m. parade from Miller Park west to De Soto VFW Post 6654, where it will continue to 7 pm.
"The Hispanic community of De Soto is extremely excited to have the festival back," said Star Villa. "We have a lot of vendors and a lot of giving information out."
Villa, a De Soto resident, is president of the Olathe-based non-profit organization Services United/Servicios Unido. The organization took on the task of organizing the festival because it conformed with its mission of providing information services available to the community.
As of Monday, 28 organizations or vendors and 11 food providers have signed on to have booths at Cinco De Soto, said Services United board member Margie Stark.
"We have people selling jewelry and prepaid legal service," she said. "Johnson County Transit will be there and the De Soto Multi-Service Center. Just a wide variety of businesses and organizations.
"Most of the food will be Mexican cuisine. Taco Bell is the only De Soto participant. We're very grateful for their support."
Also scheduled to make an appearance is the Mexican consulate of Kansas City, Villa said.
The booths will be inside the Veterans of Foreign Wars Post 6654 but the festival will spill over to an outdoor beer garden. A tent has been rented in case of rain, Villa said.
Cinco De Soto will include many of the events activities to Mexican and Cinco de Mayo events, including a piñata for children, the crowning of a queen and lots of music.
Villa said four bands would perform at the event including Banda Perrona of De Soto.
The queen will be crowned with Stephanie De Leon of De Soto and Majini Perez of Olathe vying for the crown.
One noticeable trend with Cinco De Soto is the participation of Hispanic media, Villa said. A Spanish-language newspaper will be present as will two radio stations, 1480 AM La Playa and 1340 AM La Gran D, which will do a live feed.
"We would love to see everyone there," Villa said. "Come out and support the event, enjoy the food and the activities. We look forward to keeping it going,"
Villa said the goal was to continue the annual festival in De Soto on a bigger scale. She said organizers learned recently they must be doing something right,
"People in Edgerton gave us a call and asked if we could help them with their event," she said. "We gave them a band and a bit of the culture."
More like this story