Tough love among teammates
Edwards, Konetzni face off for third place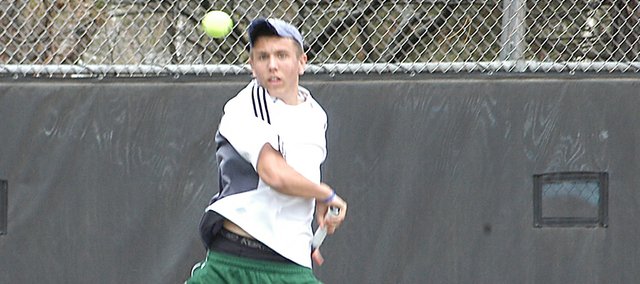 It's not often that two teammates play one another for a medal. But that's exactly what happened Tuesday when two Wildcat tennis players, junior Matt Edwards and sophomore Andrew Konetzni, faced off in the third and fourth-place match in the medal round at the Washburn Rural Invitational tournament in Topeka.
The tournament, at least in No. 1 singles, played out the same way a year ago for the two players, and it's an encouraging sign for coach Michael Sullivan.
"I hope they get to play each other a few more times, because that means that they're advancing far in tournaments, and also that they are both getting to play No. 1 in tournaments," Sullivan said. "How close they played today just solidifies my stance; as far as I'm concerned I have two No. 1's."
In this meeting Edwards won 8-7 (6) by way of the tiebreaker. The tiebreak set ended at 8-6.
"We joke around and then once we play it's really focused and a tight match, most of the time," Konetzni said. "This is better focus-wise (than practice), but I'd love to beat him."
Konetzni beat Edwards two of the three times the two played a year ago. At the same tournament in 2007, Edwards won, then Konetzni was victorious in regional and state matches.
Usually in tournaments a team enters one of its singles players at the more competitive No. 1 spot and one at No. 2. But Sullivan said since the Washburn Rural Invitational was so early in the year, opposing coaches and tournament coordinators had more flexibility and let teams enter both singles players in the No. 1 slot. Sullivan saw that as one advantage to bringing his team to this particular tournament in the early stage of the season.
"They both get to play the top competition," he said. "I'd rather see somebody go 2-2 at the No. 1 than 4-0 at the 2 because they are getting much better competition."
In the semi-finals, the two singles players ran into that competition.
Facing the top-seeded singles player, last year's 5A state runner-up Steven Fletcher, Topeka Seaman, Edwards lost, 8-3. Fletcher got second place at the 5A state tournament a year ago.
"It's good to play good people. Good matches, good practice will get me better for state and my other matches later on," Edwards said. "I played really good, he was just on. He could hit any shot. He was good."
Konetzni ran up against a similarly skilled foe, Arin Enge of Olathe East. Konetzni lost, 8-1. Konetzni had played Enge in the past, and in fact the two are in the same tennis academy. Konetzni said he'd beaten Enge a couple times in practice, and wasn't pleased with his performance Tuesday.
"I was not good at all," Konetzni said. "It was nerves, probably. I was a little slow at the start, real tight. I wasn't really ready for it."
Fletcher beat Enge in the championship match, 8-2.
But after the clash of the two teammates, Sullivan was pleased with how his singles players performed on the day.
"They lost to two really quality players, guys who are going to go to state and probably place pretty high at state," he said. "It's unfortunate that sometimes somebody is going to have to play 2, but you've got two guys that are that good."
In No. 1 doubles play, Brendon Hudson and Trevor Elmer went 1-2 on the day. They lost their first match of the day 8-3 to the Mill Valley team, then dropped the next match 8-6 to their Gardner Edgerton opponents.
The duo then rebounded to beat a Highland Park team 8-2.
"Even though they went 1-2 today I think they are making progress," Sullivan said. "They had their tougher matches first and I think that if they could have gotten an opponent they could handle early on, that would have helped them with those tougher opponents. In a month, I think you are going to see a completely different team once we get them more comfortable at the net and get them to crash."
Sullivan said tennis players, when starting to play, first learn how to play at the baseline and then learn to play at the net later on. Getting his No. 1 doubles team comfortable crashing to the net will be a focus in the coming weeks.
Rounding out the opening tournament performance were No. 2 doubles teammates Joe Dvorak and Foster Moore.
They beat their Mill Valley opponent in the fifth and sixth- place match, 8-5.
"Joe and Foster had never played varsity together, so placing fifth was great," Sullivan said. "They played really good together. I was real proud of how they played."
Next up on the Wildcats' schedule is a quadrangular March 31 at Lake Shawnee. It will follow a round-robin format and De Soto has won it the last two years.