Band instructor announces coda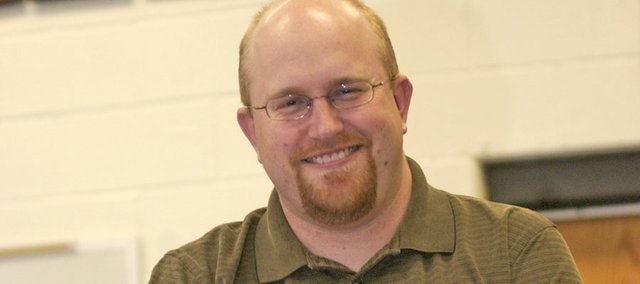 When he started teaching at De Soto High School in 2000, band director Justin Love had only 38 students in band.
As Love ends his eight-year stint with De Soto USD 232, there are more than 100 students in band counting flag team members, which is close to 20 percent of the school.
"When I first got here, there was an opportunity to kind of to set some things right again," he said.
When Mill Valley High School in Shawnee opened in 2000, students were lost from De Soto's band program to attend the new school, Love said.
"It was in a good place before then so it was easy to get that back," he said.
Love informed students and parents Monday of his resignation with a meeting and an email. Next year, he will be the band director at Olathe North High School.
Love said in the email that his decision was a difficult one.
"The time has come, however, for me to pursue some new personal and professional challenges and opportunities," he wrote in the email.
Josh Stanley, a junior at De Soto High, said he was upset when he learned the man band members called "Dr. Love" was leaving.
"I was like, 'No. Not cool,'" the oboe and saxophone player said. "It would have been cool to have a teacher all the way from fifth grade to my senior year."
Stanley said he is going to miss Love's humor and sarcasm in the classroom.
"When it comes time to rehearse that's all we do, but some days it will be a really easy day, and he will just be joking all class period," he said.
Love said he expected mixed reactions from the community.
"As I told the kids, some will be sad, some will be mad, some will not care, some will probably dance for joy," he said. "The parents and a lot of the kids are understandably upset. It is a very difficult thing to announce."
Love said he had an opportunity to suggest candidates to fill his position, but couldn't comment on who they were.
"I think we've got things set up so for the next person it will be very easy for them to come in and continue on," he said.
Since 1981, the De Soto High band program has received 23 Division 1 performance ratings at the Kansas State Music Festival.
"That's 23 out of 27 years," he said pointing up to the plaques lining the wall in the De Soto High band room. "That's a legacy that's very impressive for anyone. That's something that started long before I was here. The program was always a good program."
Love said the band is preparing for this year's festival, which will be April 16 at Gardner Edgerton High School.
Before becoming the band director at De Soto High, Love taught in Ulysses USD 214 in Ulysses, Kan.
He said he knew he wanted to teach because he loved music and children.
"In high school I got to do lessons for middle school kids," he said. "As I got into college I got opportunities. I worked at the Midwestern Music Camp at KU for 10 summers actually. That was a neat way to get involved and getting to work with kids is always something I enjoyed."
Love grew up in Texas playing the trombone and then attended Kansas University for his bachelor's degree. Currently, he is working on his master's degree at KU, but Love said he prefers the classroom.
"I think I would like to stay teaching in the classroom, teaching band," he said. "What level or where that just always kind of depends."