Plans progress for De Soto bond vote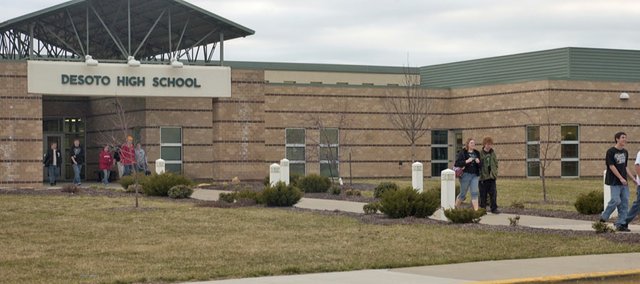 De Soto USD 232 Board of Education members want a seventh elementary school and expansions to Mill Valley and De Soto High Schools on the district's next bond referendum.
The board unanimously approved at a special meeting Monday to direct the administration to obtain more information on the cost of expanding the high schools and building a seventh elementary school on land the district owns at 55th Street and Belmont Drive in Shawnee, west of Kansas Highway 7. The board is considering placing a bond referendum before voters in November.
The board voted 5-2 to direct the administration to use Hollis & Miller Architects to update the scope of work already completed by the firm and to determine cost estimates for the three projects.
Board members Tim Blankenship and Bill Fletcher dissented.
Before the board made its decision, Superintendent Sharon Zoellner emphasized the need to keep project costs around $60 million on the next bond referendum because that is what patrons indicated they would support on the district's recent survey.
"We saw the highest return for results for us is at the lowest level," she said.
Blankenship said he thought patrons would support a low-cost bond referendum with high school expansions and a seventh elementary school.
"I think they will support it when they understand the need and the negative impact to students' education without it," he said.
The decision came after board members individually prioritized projects and specified if they wanted to pay for them out of capital outlay, the 2008 bond referendum, a future bond referendum or if they wanted to remove the projects from the list.
Board members went through their prioritized projects to find out where they agreed.
All board members agreed that Starside and Clear Creek elementary school expansions, which will be needed by the 2009-10 school year, should come out of capital outlay. Starside expansions are estimated to cost $2 million and Clear Creek expansions are estimated to cost $1.25 million.
Jim Thomas was the sole board member who did not initially agree with putting a building expansion to Mill Valley High School on a 2008 bond referendum.
"To me that is an educational issue," Thomas said. "On principle, we built the high school with the capacity of 1,000 because that is in the best interest of the educational needs of our kids."
Board member Don Clark asked Thomas if he would accept a bond referendum with an addition on it.
By the end of the discussion, Thomas agreed, but he noted that he was unhappy with straying from the district's plan of keeping its high schools at a capacity of 1,000 students.
Blankenship said he thought moving forward with expansions instead of building a third high school was the best option for patrons.
"I think the survey showed that more people were interested in the expansions," he said. "I think that coupled with the fact that it allows students who live closer to Mill Valley to stay at Mill Valley that it's a better decision. I think that we have effective enough administration and teachers to not let the quality of education fall."
Board members also initially differed on whether they should expand Mize and Horizon elementary schools before building a seventh elementary school.
District facilities director Denis Johnson earlier in the meeting presented two plans, one included expanding Mize and Horizon in 2010-11 and one included building a seventh elementary school in 2010-11.
Johnson said if Mize and Horizon additions were completed in 2010-11, a seventh elementary school would be needed in 2011-12.
He said the district could buy time and save money now by building the seventh elementary school in 2010-11 because expansions to Horizon wouldn't be needed until 2013-14 and Mize additions wouldn't be needed until 2015-16.
Johnson also said waiting until the future to expand Mize and Horizon could allow for other funding options.
"Leaving Mize and Horizon off, too, makes us more likely to be able to do them out of capital outlay," he said.
Zoellner said using capital outlay for smaller projects may be helpful to taxpayers.
"Economically for the district patrons as we discussed it would be better to pay for those short-term projects out of capital outlay because it would be short-term and then it would be done."
District administration will present cost information and details about what could go in to the building expansions and seventh elementary school at the board's April 21 meeting.
The next school board meeting will be at 7 p.m. April 7 at the District Administrative Building, 35200 W. 91st St., De Soto.