A whole new ballgame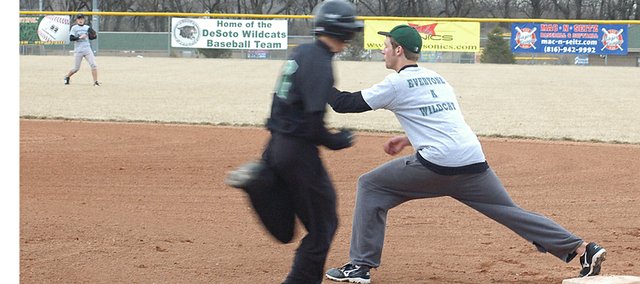 Call it cabin fever, but De Soto baseball coach Joel Thaemert was less than pleased with the first couple weeks of practice.
Only having been able to practice outside a handful of times, Thaemert thinks his team's intensity level may by attributed to the recent inclement weather.
"Our intensity isn't where it needs to be at all right now, and I think that comes with the fact that it's kind of hard to be intense when you're in the gym or on the practice football field," he said. "Just throwing down bases is what it basically boils down to at times."
Thaemert said the next opportunity to get on a field won't be until next week and with a March 27 opener at Baldwin looming De Soto is running out of time. But, an optimist would say, everyone is dealing with the same elements.
Coming off a 12-9 year and being bounced from the postseason in the first round of sub-state, Thaemert still has lofty expectations.
"Just play and do things the right way, play the game hard and be smart and you can have a chance to win games that some people wouldn't think you could win," he said. "But as far as a program, you want your kids thinking state tournament or there's a disappointment."
De Soto was able to get outside and scrimmage March 12 and 13, and Thaemert saw some effects of being inside. Hitters' timing has been an issue, and he said that could be a result of too much time hitting in the cage and not facing live pitching.
"Our pitchers looked like Cy Youngs out there," he said.
Although maybe not Cy Young candidates, the Wildcats should return a seasoned, solid pitching staff. Senior Brady Maasen is the early favorite to be the ace of the staff, and Jerin Riffel will also spend time toeing the rubber to start games.
"Against the tougher teams he (Maasen) was matched up in game one," Thaemert said of a year ago. "He likes that challenge, and for the most part he pitched pretty well. He's got to be more consistent for us, probably than he was last year for us to be successful, and he knows that. He walks a lot of guys, gets up in a high pitch count and can only give us four or five (innings)."
Senior shortstop Travis Crow will be a player that Thaemert not only counts on for his defensive prowess, but also for his leadership and maybe even some innings on the mound.
Crow was unable to get a lot of pitching experience last year because there was no one else to play shortstop, but with the emergence of junior Tommy Elmer as a solid glove he could see more innings. Elmer could also see some mound time, as well as playing third, short or second.
As for the sticks, Thaemert only has last summer as the indicator of what his top five spots in the order may look like.
In all likelihood, Jerin Riffel and Shane Miller will probably bat one and two, respectively.
"Lot's of speed," Thaemert said. "We can do a lot of things. They walk a lot, they get hit by pitches, they can bunt. I love to drag bunt and they are really good at it."
Following them could be Crow in the 3-hole, followed by Maasen and senior Erik Hill.
"We haven't been able to get out there and see what we've got, but I know from the summer that's how we hit them and it looked really good," Thaemert said.
Baldwin finished 4-15 last year, but could still present a challenge because it, too, is bound by the weather.
"Right now, who knows? They might come out a ball of fire, because they're in the same boat as we are."
More like this story