Training Day
Athletic trainer puts
DHS

ahead in athletic rehab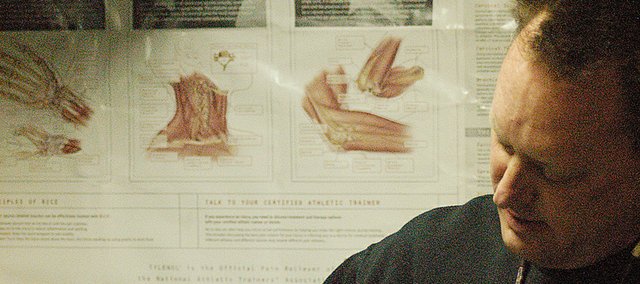 Steve Hawkins remembers his days of working southern Texas high school football games well. He can't forget it.
For two years after receiving a master's degree at Indiana State, Hawkins worked as a certified athletic trainer for a school seemingly out of the book, "Friday Night Lights."
"It was, 'kids play or else,'" he said. "Play at all costs."
In a town roughly 40 miles from Corpus Christi, where the school played half its games, football was a seven-days-a-week activity for high school athletes. Hawkins treated banged up players twice on Sundays. His budget, for football alone, was in the neighborhood of $5,000 and that was in 1986. The school fed players pregame meals, energy drinks and energy bars, and took charter buses to away games.
"There were a couple of times kids got hurt, and it was just too painful. A doctor would come in and shoot them up. A coach played a kid with a second-degree concussion against the doctor's orders," Hawkins said. "I said, 'I can't go for this.'"
Following his southern Texas years, Hawkins moved on to San Antonio, where he spent five years before moving back to Kansas in 1991. He worked out of Providence Medical Center from 1991 to 1999, then taught at Turner for two years before a job opened up with Olathe Medical Center that he now calls, "the greatest job I've had."
Hawkins works with De Soto High School student athletes and coaches everyday. He's a certified athletic trainer who comes to the school, treats kids for rehabilitation and preventation and stays after school to observe practices and athletic events.
His job is to fulfill this year's theme of the National Athletic Trainers Association's National Athletic Training Month: "Who's taking care of your kids?"
Hawkins gets to the school at around 11 a.m. He prepares to treat kids at lunch, when he might work with a athlete who needs the afternoon seminar period to work on schoolwork.
The seminar period, from around 2:10 p.m. until the end of school, is what Hawkins calls his "prime time."
As many as 12 kids per day come to his training room to apply heat packs, ice packs, get wrapped or taped or whatever else they need before they go to their after-school practices or games.
"It's important," Hawkins said. "You see a lot of kids that take those minor injuries and they never work them, never treat them, never tell anybody and then it's going to hinder them later."
One player last fall took a knee to the thigh and never told Hawkins. Over time, the muscle bled enough and formed an extra bone, almost like a kneecap, within the muscle. It was only the third time Hawkins had seen the condition in 22 years.
"That's a result of not taking care of an injury," Hawkins said. "If he'd just have come in a couple days and we'd worked on ice and stretching, it probably would have never happened."
Another way athletic trainers take care of student athletes is to ensure they get the most complete, unbiased information related to an injury.
"He says whether the player is injured or just hurt. Can they play through it or can they not?" said De Soto athletic director Steve Deghand. "You're getting somebody from an athletic training standpoint giving you that answer as opposed to a coach who would simply be guessing."
Hawkins said in many schools without trainers, the responsibility often falls to the youngest coach because they are the person with the most recent first aid class and athletic training courses taken in college.
"Trends change," Hawkins said. "You've got to take care of yourself before you get on the field, and that includes injuries. Kids are finally realizing that even if it's a minor bump or bruise, they at least know to ice that thing down that night, and then come in and see me the next day."
Not only are athletic trainers helping with the treatment, they are also helping raise awareness among young student athletes. Having Hawkins around may serve as a reminder to the athletes practicing or playing to take care of themselves when away from the athletic field.
But not all schools are equipped like De Soto. Hawkins and eight other certified athletic trainers take care of the 10 Olathe schools, and another may be employed to cover Gardner Edgerton within a year. None of these schools have to pay for the service.
Olathe Medical Center employs all athletic trainers to take care of the student athletes. It's part of a non-profit charity organization that provides the service to the community.
And along with professionals such as Steve Hawkins, they are taking care of the community's young student-athletes.
More like this story