Students get virtual civics lesson
Moore won't reveal superdelegate choice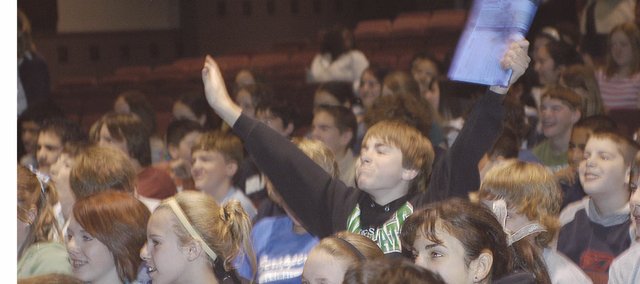 Seventh-graders at Lexington Trails Middle School Thursday got to visit with Congressman Dennis Moore in his Washington, D.C., office, and they didn't have to leave De Soto.
The students were on a virtual field trip, with technology provided by Tandberg, a videoconferencing company.
Moore talked a little bit about what he did and then fielded questions from the students.
Seventh-grader Noah Cardiff asked how the United States got so far in debt, about $9.3 trillion, and to whom does the country owe the money.
Moore pointed out he was a member of the Blue Dog Coalition, a group of moderate to conservative Democrats who are working to restoring fiscal responsibility and accountability to the government.
"What we say is we should live like most American families do - within a budget," Moore said.
Moore said the Blue Dogs would like to see adherence to pay-as-you-go budget discipline, requiring lawmakers to come up with a way to pay for each proposal.
Moore said PAYGO used to be a rule, but expired in 2002.
The three largest expenditures in the country are the Department of Defense, Health and Human Services and interest on the national debt, Moore said.
Nick Hall, seventh grade, asked Moore about Kansas wanting to change
More like this story