Soccer stuffed in opener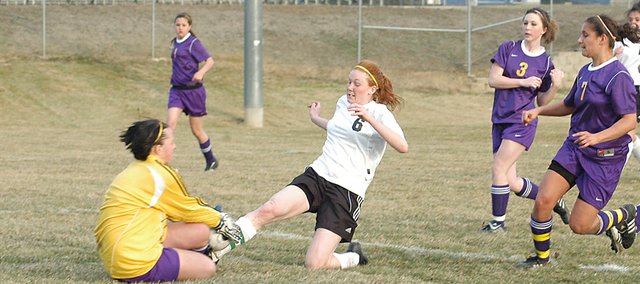 It took only about 1 minute, 50 seconds for De Soto to score its first goal of the year and go up 1-0 over Spring Hill, but the lead didn't hold up for the duration of the game and the Wildcats lost their opener in overtime 3-2.
"We've got a lot to work on," coach Darren Erpelding said. "We've got 15 games left. It's a long season. We've got time to get better."
Shortly after the kickoff, sophomore Carly Stanley made a tackle on a Spring Hill defender, dribbled the ball toward the Broncos' goalkeeper and lofted a chip shot over the goalkeeper's head that ducked under the crossbar and into the net.
About nine minutes later, senior Nicole Radcliffe got a breakaway and unleashed a shot, but it flew over the goal and the score remained 1-0.
"It (shots on goal) really hasn't looked good in practice in all honesty," Erpelding said. "We're not looking up when we're taking our shots, we're just shooting it, and that's why we're hitting the keeper."
The Broncos responded with a goal at 27 minutes, 22 seconds and another with 2 minutes, 53 seconds remaining in the first half to take a 2-1 lead into the break.
Early in the second half, De Soto made an adjustment on defense and dropped Stanley back to the sweeper position. The change seemed to stifle Spring Hill's offensive attack for the rest of the second period, as the Broncos were seldom able to get the ball down to the Wildcat net.
"Our defense played okay, especially after we moved Carly back to sweeper in the second half," Erpelding said. "It was hard to sell her on it and then she came to me at half and said, 'Can I go back to sweeper?' I knew it wasn't going to be long before she realized she needed to play back there."
De Soto tied the game in the second period with 25 minutes, 22 seconds left in the game.
Junior Danielle Price found Radcliffe, who beat one opponent and punched it past the Spring Hill goalkeeper to even the score.
The teams remained knotted at 2-2 for the rest of regulation.
A little over halfway through the overtime period, Spring Hill sophomore Katie Dillman got to a loose ball deep in De Soto's territory and put a shot in the net to win it in sudden death. It was her second goal of the game.
"Our practice intensity has to pick up. I wasn't on them and yelling at them so much, because until they got on the field they weren't going to know," Erpelding said. "Now they know they have to pick up their practice intensity."
Radcliffe had five shots on goal for the game, connecting on two of them. Price added three shots on goal and one assist.
Freshman goalkeeper Emily Bilger had four saves against seven shots on goal while filling in for sophomore Jamie Zvirgdins who was away on a band trip. Freshman Megan Robinson was another player the Wildcats were playing without because of the trip.
"I think we could have played a lot better because, that's what I'm used to," senior Julie Bray said. "But with everything being switched up this year, players come and go, so it's just a new adjustment."
Despite the loss, Erpelding did find some positives in the performance.
"The second half was much better," he said. "And I thought our fitness was good."
It marked the first game Spring Hill had ever played in girls soccer.
The loss moved De Soto to 0-1 on the year. Next up for the Wildcats is a game with Gardner at 6 p.m., March 25 on the road.
"It's a long season, we've got time to get better," Erpelding said. "My goal as a coach is to turn this around and turn it into a positive."
More like this story