Girls young, boys improved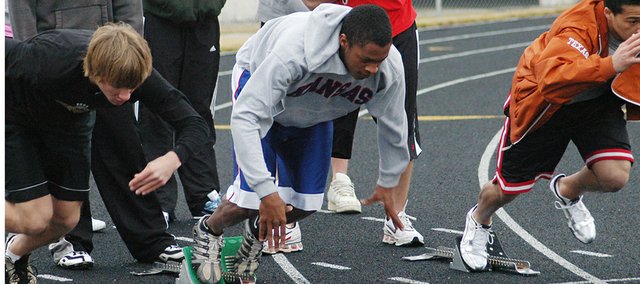 Building for league, regionals and state is the main goal of De Soto track coach Brian Dinkel early in the season.
It's not so much about results in the first few meets, but rather improving performances among his athletes. That's something that's been hard to accomplish given the cold, wet weather that has invaded Kansas for most of March.
"It's had an effect on the kids," Dinkel said. "It's tough to go out and do any running or jumping because it's so cold their lungs hurt and it's just been miserable so far. But all the rest of the teams are in the same situation."
Of the two teams in De Soto, the boys looks to be a pretty formidable force to opponents.
"We're going to be pretty solid on the boys side," Dinkel said. "If Andre Linzy does in fact go out, we'll have two kids that will have a pretty good chance at placing high at state in the long jump and triple jump."
Those two would be Linzy and junior Jamell Townsend. Linzy is expected to make a decision soon on whether or not he comes out after spring break.
Townsend was a transfer student at the beginning of this year, but qualified last year for the state meet in Minnesota.
"Then we have a freshman, Jordan Riffel, he's going to be a very good athlete," Dinkel said. "Last year as an eighth grader he jumps 20 feet so if he adds a little bit on to that he could qualify for state in long jump as a freshman."
The strength of the team will most likely be those three athletes in the long jump and triple jump.
Dinkel looks to score some points in the sprint and relays as well, and one pole vaulter, Jordan Slater, who got as high as 10 and a half feet a year ago should place at some meets.
In the throwing events for both teams the Wildcats have no experience at all, so it will be difficult to have an impact in that phase of competitions.
The girls are expected to not be quite as competitive as the boys team, but there are a few bright spots that Dinkel sees. Distance running, which has been a strength of De Soto in recent years, should be the most competitive aspect of the girls team.
Also Barbara Hartz in running and jumping events and Cheyenne Williams in the pole vault are two strengths of the team.
"On the girls side, we're pretty young," Dinkel said. "We've got a lot of good young kids, but as far as taking a lot of girls to state, right now, I don't know that that's going to happen."
But at this stage of the season for Dinkel, it's all about improving each day in order to have his athletes ready for those last three meets of the year.
De Soto opens its season at 3:30 March 28 at the Baldwin Relays.
More like this story