Teacher awaits call to serve country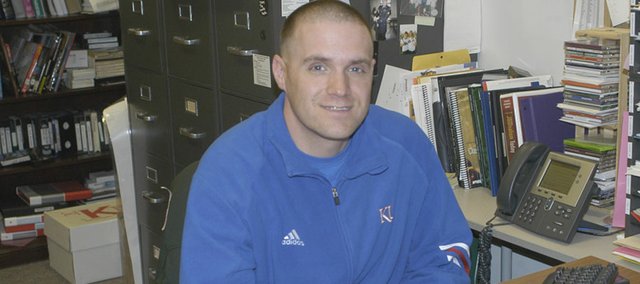 De Soto High School journalism teacher Mike Sullivan balances serving his country with teaching his students.
Sullivan, of Shawnee, recently returned from a nine-week officer basic leadership course at Fort Sam Houston near San Antonio, Texas.
Sullivan first joined the U.S. Army Reserves to help pay for college. After graduation, Sullivan started working in athletic media relations and wasn't able to serve in the Reserves.
The terrorist attacks of Sept. 11, 2001, provoked something in Sullivan.
"It just really affected me," he said. "And then the morning after 9/11, my wife just had a feeling and we found out she was pregnant the next day."
Sullivan said he started thinking about re-enlisting with the Army Reserves.
"I wasn't going to be out there hunting terrorists or anything like that, but I knew that I could at least be a part of it," he said. "I debated it for a long time. It took about six months and I finally went through with it. It was about a month before my daughter was born."
Sullivan also marked his first year of teaching at De Soto High in 2001.
"It was like a month into the job and I was like 'Wow,'" he said. "I will never forget it. I was in first hour. It was broadcast journalism class and somebody gave me a call and said 'Hey, there is a plane crashed into the trade center.' For me, it was really good teaching tool in broadcast class. That was the main reason I had it on."
Sullivan, a medical services officer, has not yet been deployed, although the nation this week marked its fifth year in Iraq.
"It's going to happen eventually," he said. "When that is going to be, I don't know. Part of me thought when I got my paperwork when I left I was going to get orders. It just kind of depends. When it does happen, it could be with my unit, it could be with a different unit. I could do a number of different things. It could be stateside, it could be Iraq, it could be Germany, you just don't know."
Although Sullivan knows he could be deployed at any time, he said he wasn't nervous. However, he knows it would take a toll on his family. Sullivan has a wife and two daughters.
"It's going to be harder on my family than anybody else," he said. "I think being gone this nine weeks was, I don't want to say a good thing, but it at least gave them a taste of what could happen. I think being away that long knows that we can survive it.
Plus, Sullivan said communicating from Iraq with loved ones is easier now.
"You have a lot better access to computers, phones and things like that," he said. "It's not like when we first got there. Now you can make daily contact via e-mail and that kind of thing."
Sullivan also noted that his job doesn't put him on the front lines.
"Being in the medical service corps, I'm not going to be in as much danger as anybody else," he said. "Whatever we do over there, we are looking out for the soldiers who are on the ground doing the fighting. My role is to get them better."
Sullivan recognized that next year could present a different situation in Iraq, depending on who becomes the next president.
"If (Hillary) Clinton or (Barack) Obama wins, it's not like they can just snap their fingers and pull everybody back, and so it's going to be a process," he said. "I think everybody wants us to pull out some."
However, Sullivan said his main concern was doing his duty.
"I don't get involved in the politics of it - are we going to pull out, are we not going to pull out," he said. "I'm just there to do what I can.
"As far as us being there, part of the reason why I'm in is because of what happened and whatever we can do to alleviate terrorism, I'm for it."