Teeing it up
Golfers hoping for state qualifications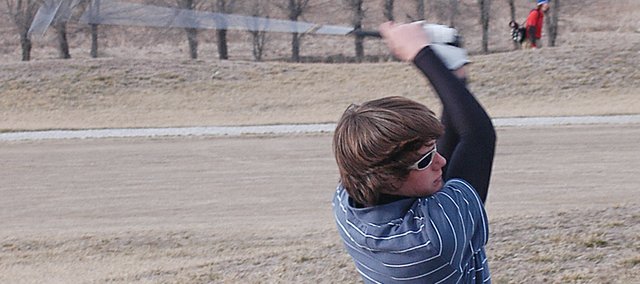 To most people, the 1980s is a time period they don't typically miss. It's known for teased hair, bands like Poison and Warrant and florescent colors.
But for the De Soto High golfers, the 80s are right where they want to be this year.
"If you want any chance of going to state, you've got to have one guy in the low-80s, if not two, and then two more in the 80s somewhere," coach Chad Brecheisen said. "That's my goal. I want to get somebody to state this year. If not the team, I want to get somebody there."
In the last two years, De Soto has not put a golfer into the state tournament, and that is something it looks to change this year.
The individuals in particular that the Wildcats will look to for those low scores are up in the air at the moment.
Brecheisen did say sophomore Alex Crall, junior Charlie Modereger and seniors Scott McKechnie and Zach Snead all will be counted on to have good years in order to realize the team's potential.
"They've all got the ability to be in the low-to-mid 80s," Brecheisen said. "It's just a matter of if they can all do it on the same day."
The team's final senior, Drew Roddy, also has a chance to complete the six-person varsity squad along with others.
"These seniors have all put in four years of hard work," Brecheisen said. "And hopefully they can be a solid foundation. They're the ones who have put this program where it is right now, and let's see what they do with it."
At the end of last year Brecheisen talked about the importance of offseason work, something he said he was happy with over the summer.
"There were a couple of them. Alex and Charlie - they definitely worked. They worked out at Oak Country," Brecheisen said. "I don't know how much they got the opportunity to play, but the more you're around it the better off you're going to be."
His second year will find Brecheisen becoming a different coach. During his rookie season he had three seniors and was reluctant to tinker with chipping and putting routines. This year, with kids who are more familiar with him, he feels free to change those things and actually do more coaching.
"Last year, my big thing was to always practice with a purpose but I didn't give them a whole lot of specifics about how to practice with a purpose," he said. "This year, I'm saying the exact same thing, but I'm definitely giving them things to work on. I'm making them hit shots a certain way."
One thing the team focused on in early practices has been the short game - within 150 yards of the pin. The technique differences were vindicated by a coaching clinic that Brecheisen attended over the summer put on by several PGA golfers. Better club selection, a putting routine and treating chipping technique the same as putting technique are all areas where Brecheisen feels more comfortable teaching this year.
And he thinks his players know they have a chance to be good.
"The goal is to put trophies in trophy cases," he said.
The first tournament is a March 27, nine-hole tournament hosted by Bonner Springs at Sunflower Hills Golf Course.
More like this story