Seniors impact De Soto hoops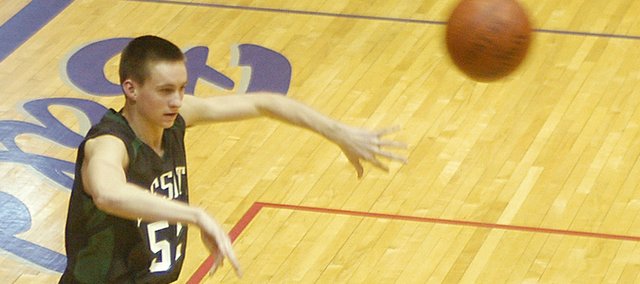 Upon reflection, De Soto boys basketball coach Jim Bonar is pleased with the team's season even though his club didn't accomplish its main goal, a state tournament berth.
The progression most of Bonar's players showed gave him encouragement and it gave the players encouragement as well. For the first time since Bonar has been head coach at De Soto, he has basketball players trying to organize games and tournaments in the offseason.
"Some of them are starting to talk about going to a team camp, which I've never heard anybody talk about around here like that," Bonar said. "The players themselves are starting to talk about what they want to do with that. So that's a great sign."
The season, though, ended on a tough note, with De Soto losing its first-round sub-state game against Baldwin, 59-58.
The loss dropped the Wildcats to 10-11 on the year.
Despite the mediocre record, Bonar still thought the season was a successful one.
"It was a season of learning and maturing and a few missed opportunities," Bonar said. "We were still pretty young even though we had four seniors. Only three or four of the kids on the team had major varsity level experience."
The four seniors - Nick Cardiff, Travis Crow, Erik Hill and Andre Linzy - won't easily be replaced.
Linzy led the team in scoring with 18 points per game and was the go-to guy when the Wildcats needed a big basket. He connected on 38.1 percent of his shots from behind the three-point arc. He was second on the team in assists, showing a great ability to drive, suck the defense to him and find open teammates for easy buckets. He was a sort of all-everything for De Soto this season, and recently signed to play at Coffeyville Community College.
"You lose his instant punch on offense," Bonar said. "When you're 10 or 12 down, he can shoot you back into it in a minute and a half. That's his greatest asset we're going to miss."
Cardiff was a senior Bonar said he saw mature in the second half of the season. The Spring Hill game was one game in which the maturation process seemed to be paying off for him.
Coach Bonar said if the 'Cats had another 10 games to play, Cardiff would be one player who would be coming on strong. Of the four seniors, Cardiff played the fewest minutes for De Soto but showed improvements and leadership for the team.
"He became a leader on the bench," Bonar said. "He kept the enthusiasm going on the bench when he wasn't in. When he was in, he went into the game and made an impact."
Hill was one of the team leaders, both vocally and through actions. He missed most of the first two weeks of practice because of a separated shoulder that he suffered during football season. He would visibly grimace at times on the court, but never stayed out of a ballgame long. In fact, he led the Wildcats in minutes played.
"He was just a workhorse all year long," Bonar said. "He doesn't get the glory - kind of like the offensive lineman who is blocking for the running back that's the star. He rebounds, hits big threes, he's on the floor - he led our team in taking charges - just does the dirty work."
And lastly, the point guard position is always tough to replace. Travis Crow led the team in assists and had the responsibility of initiating the offense and distributing the ball. Crow was among the team leaders a year ago in three-pointers, but Bonar said he accepted less of a scoring role to become the point guard and get De Soto into its offense.
"This year, he just didn't get the shots up and always was pass-first, which was a big sacrifice for him," Bonar said. "He was so unselfish and was willing to take whatever role I gave him."
So in this year's senior class, all were contributors in one phase of the game or another. But there are also some key contributors returning next year.
Jamell Townsend averaged a double-double this year, with 12.2 points and 10.5 rebounds per game. He'll be relied upon heavily next year to make up for the points De Soto will miss with Linzy's departure.
Sophomore Dylan Burford hit just better than 57 percent of his three pointers for the year and looks to be De Soto's main threat from the perimeter.
For the first time in Bonar's career at De Soto, which has been three years so far, he'll have a class that has been in his system all four years, and that has him optimistic. But for this basketball team, it starts right now.
"You don't just pick a ball up in November and start developing," he said. "These kids are going to have to work all summer long. The ability is there. The desire is there. Whether the work ethic is there this summer, that will be the determining factor."