Objective; more victories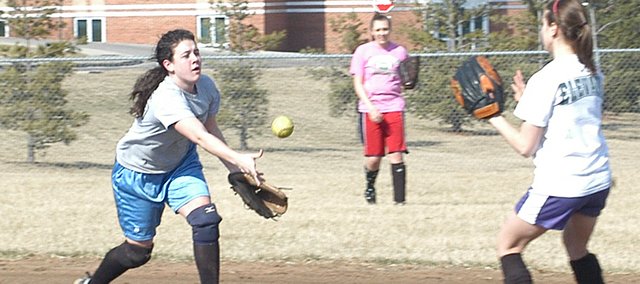 A 7-13 record is usually not reason for optimism. It's below .500 and not a typical record that you see belonging to teams in the postseason.
But when the 7-13 mark comes from a year ago, and the year before the record was 4-17, it's an improvement.
In her second year as De Soto High School head softball coach, Melissa Wible hopes for more improvement this year.
"We're working on getting spots filled and who's going to be playing where," Wible said. "But hopefully, we can get more wins than we did last year."
It's not a simple task,
however. The Wildcats lost seven players to graduation a year ago, and return less than a handful of key contributors.
Senior Jessica Pennington returns as the only senior who has played significant innings at the varsity level. She has anchored the pitching staff the last few years and has been a varsity ballplayer for four years.
"We're looking for her to take a leadership role," Wible said. "Then I have three returners who played a lot last year, so I'm looking for them to play big roles this year."
Pitching duties will be split between Pennington and sophomore Katie Williams, the same tandem that led the Wildcats' mound attack a year ago.
The other two players Wible referred to are sophomores Jordin Burford and Megan Sterling.
Burford is an obvious choice to be one of the leaders of this year's squad, considering the success she had as a freshman. She had the game-winning hit against rival Eudora on senior night, and played extensively over the summer.
"She is an excellent kid. She did a great job for us last year, so we're just looking for her to keep improving," Wible said. "She knows the game well enough that you could put her anywhere and she would do well for you."
Burford will likely hit first or second in the batting order, and Wible said she had improved that aspect of her game.
Sterling is one of the girls on the team who could possibly play collegiately, so Wible is looking for big things out of her this year as well.
As for the big bats in the lineup, Wible pointed to the same four girls - Pennington, Williams, Burford and Sterling- to make the biggest impact. After those four girls, a lot remains to be seen.
"I have a few freshmen who I'm hoping will do well for us," Wible said. "It's going to be a shock coming in at varsity, but there's a few freshmen that could be playing varsity and will hopefully help us out hitting."
In her second year, Wible said she would rely on a more aggressive style of play in order to put more pressure on the defense and make some things happen for her offense.
"I need to push them harder as far as stealing and things. We did a lot of bunting and slapping, which I like," she said. "But I'd like to steal more, get them around the bases faster."
She also said offseason participation increases every year and it was a reason for her optimism this year. Some kids play competitive softball on select tournament teams, and those who don't play on Wible's team over in Johnson County. That offseason participation may help to offset a lack of maturity and experience.
The first game for the Wildcats will be at 4:30 p.m. March 27 at Baldwin.
With Monday being the first day, the Wildcats could get outside on a field, it will be a challenge for the team to see enough live pitching to prepare them for the Bulldogs.
"They always have good teams," Wible said. "They have good, solid pitching too. It will be good competition for us our first time out. But I have a really good group of kids. They work hard and I've been happy with them so far."