Girls lose opener in
OT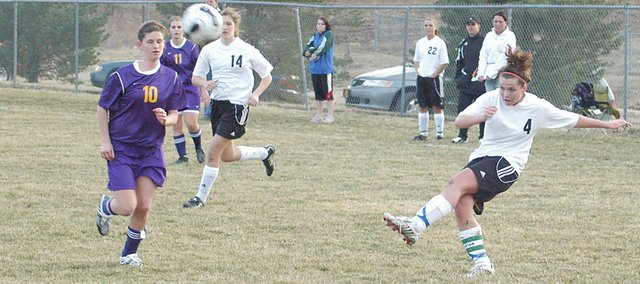 It took only about 1 minute, 50 seconds for De Soto to score its first goal of the year and go up 1-0 over Spring Hill, but the lead wouldn't hold up for the duration of the game and the Wildcats lost their opener in overtime 3-2.
"We've got a lot to work on," coach Darren Erpelding said. "We've got 15 games left. It's a long season. We've got time to get better."
Sophomore Carly Stanley lobbed a ball in from the right side of the goal and it flew over Spring Hill's goalkeeper and into the net for the early lead.
The Broncos responded with a goal at 27 minutes, 22 seconds and another with 2 minutes, 53 seconds remaining in the first half to take a 2-1 lead into the break.
De Soto tied the game in the second period with 25 minutes, 22 seconds left in the game. Senior Nicole Radcliffe found herself one-on-one with an opponent, beat her, and then punched it past the goalkeeper and evened the score.
The teams remained knotted at 2-2 for the rest of regulation.
A little over halfway through the first overtime period, Spring Hill sophomore Katie Dillman put a shot in the net to win it in sudden death. It was her second goal of the game.
It marked the first game Spring Hill had ever played in girls soccer.
The loss moved De Soto to 0-1 on the year. Next up for the Wildcats is a game with Gardner at 6 p.m., March 25 on the road.