Forensics folly
DHS

students personalize characters, in preparation for state tournament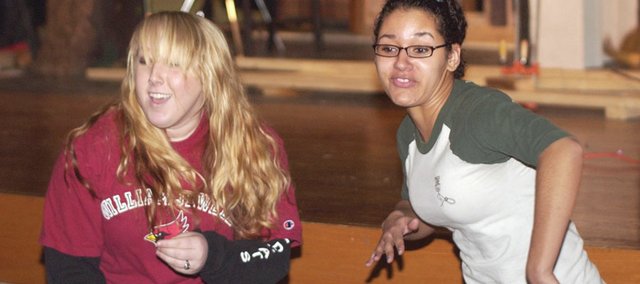 De Soto High School senior Jessica Pennington has died three times.
It's part of her duet acting piece for forensics, "The Complete Works of William Shakespeare Abridged."
Jessica, along with her partner Jhasmine Roddick, qualified for state with the piece. They, along with two other De Soto High School students will compete at the state forensics tournament May 3 in Topeka.
Jessica said she and her partner chose the piece out of the plays on file at the high school.
"Basically, you want to go with something that will complement your acting style, and you try to pick something that the judges will like," she said. "Usually, funny goes over well."
The humor factor was the main reason Jessica selected this play.
"'Othello' is fun because we rap it," she said. "My partner is a girl so that makes 'Romeo and Juliet' interesting."
At a forensics tournament, students perform their pieces three times before three different judges, senior Brittney Partlow said. The judges score the students on a scale of one to 10 with one being the best. If the scores are high enough, students will compete again in the final round at the tournament.
"They look at characterization and how well you look together and how clear the piece is," she said.
Brittney and her partner junior Hannah Smith will compete at state in duet acting with their piece from "Wicked," the 2003 musical that tells the story before the Wicked Witch of the West became wicked.
Brittney plays the role of the wicked witch, while Hannah plays the role of Glinda the good witch.
Brittney said the roles fit them because of their different personalities.
"I learned to try to put your personality and who you are into your character," she said.
Forensics coach Bryan Hileman suggested the piece to the girls.
"I remember when I suggested that, you jumped and screamed and hugged each other in circles," Hileman reminded them Monday.
This is Hileman's second year at De Soto High, so a big goal of his is recruiting students to compete in forensics. Hileman said he targeted theater and debate students because of the similar skills needed.
"I just put it on my list for classes and I like acting," first-year forensics member Hannah said.
Brittney said she has competed in forensics for four years and already participates in debate and theater. She also will compete at state in serious solo acting.
Hannah, who participates in theater, agreed that the skills needed for both are similar, but noted there are differences.
"A lot of forensics is kind of over acting to really get the judge into it," she said.