DHS

band off to San Antonio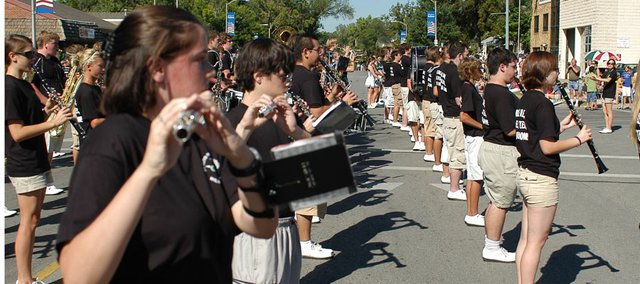 The De Soto High School Wildcat Band started its spring break early.
Wednesday, the band left for San Antonio, Texas, where its members will attend a band clinic with the director of bands at the University of Texas at San Antonio.
De Soto High School band director, Justin Love said the clinic would help prepare the students for spring festivals. The band also will perform a concert on the Riverwalk in downtown San Antonio as part of the National Festival of the States.
Love said this year's trip would cost about $50,000 total. The De Soto City Council last Thursday agreed to contribute $1,000 to help with the band's expenses. Some students raised funds to pay for their part of the trip.
"Some earn their whole way or just a part of it," Love said.
This is the band's first trip to San Antonio, but since 1998 the band has been to Washington, D.C., twice, Colorado Springs, Colo., and Dallas. The band travels every other year.
Love said the trip to San Antonio allowed students to perform on a national stage, while being exposed to a place with historical, cultural or natural appeal.
"I believe it is extremely important that students learn about our country through first-hand experiences, and this is one way we can help provide that teaching," Love said. "What I have found is that we often have quite a number of students who have never even traveled very far outside of Kansas, if at all. For some of our students, this is a special opportunity to take a trip and may be a first in a lifetime experience."
The band has been preparing for the trip for more than a year and has had support from several parents, Love said. Some of those parents are acting as chaperones, while others are traveling to San Antonio themselves to see the performance, he said.
"Our parents have helped in many, many ways to prepare - from setting up fundraisers to helping with uniforms," Love said. "Without their help absolutely none of what our band students accomplish or get to do would be possible."
Love said he viewed the trips as a reward to the students who participated in the program, as well as a possible incentive to join.
"Certainly it encourages some to try band out that might not have, and we hope then they enjoy it and stay," he said.