Nomination humbling to De Soto teacher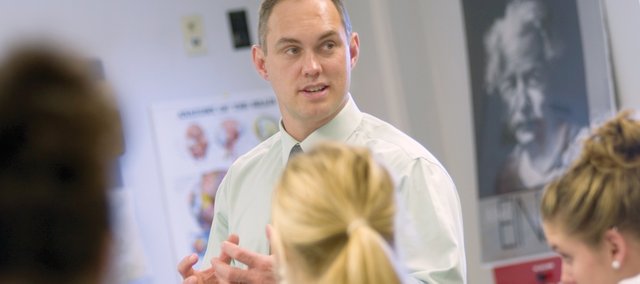 Mill Valley High School science teacher Eric Thomas strives to show his students how what they learn is applicable to their lives.
"Take photosynthesis and cellular respiration," he said. "Without photosynthesis, it would be a dramatically different environment; we wouldn't be here."
Thomas, who teaches biology, field biology and anatomy and physiology, was named the De Soto USD 232 secondary school candidate for Kansas Teacher of the Year.
"First off, to be nominated that is a humbling thing and a very rewarding thing," he said. "Even at the building level it's pretty humbling because you have a lot of good teachers here."
Thomas said his teaching philosophy is to be consistent and fair, and when possible, be flexible and empathetic.
"I'm pretty real with myself," he said. "I know I am not the gentlest of human beings, but I try to compensate that with humor."
Although Thomas has been a teacher for 10 years, all in the De Soto school district, he didn't always want to be a teacher.
"Initially I was going to school pre-med," he said. "I got down to my junior year and decided I didn't want to take that particular path."
Thomas said he was turned off by the cost of medical school and the hours doctors work.
"I came from kind of a poor family, and I didn't want all that debt," he said. "I was working my way through college. I grew up with a single mom until I was 8. I had no concept of $100,000 in debt. My first house was $40,000, and it made me sick to my stomach."
So Thomas's interest in science led him to teaching.
While studying at Mid America Nazarene University and Kansas University, Thomas picked De Soto High School
"I was always passing by De Soto High School on my way to KU or on my way to Mid America, so I applied," he said. "I wasn't sure I was going to get a job to be honest. I didn't know anything about the need for science and math teachers."
Thomas started working at De Soto High School under the direction of then-principal Joe Novak. When Mill Valley opened in 2000, he moved to the new school along with Novak, who was a mentor to him, along with another science teacher.
"He has trusted me to do some things in the classroom," he said. "He gave me a lot of freedom to try new things. I'm not sure to be honest I'd still be in education if it wasn't for them."
At Mill Valley, Thomas developed a butterfly garden for his field biology class to work on and observe. He also planted a honeysuckle bush that attracts humming birds when the flowers bloom.
Thomas is in his first year as assistant track coach and has been an assistant football coach for 10 years. He has been the assistant high school wrestling coach for four years, but he plans on coaching at the middle school level next year.
In June, Thomas will travel to South America to go on ecology tours. He plans to observe insects, plants, crocodiles and Mayan ruins, and report back what he learned to his students.
"I've always wanted to see the rainforest," he said.
Although Thomas earned his administration degree in 2003, he isn't ready to join the administrative staff yet.
"I certainly wouldn't rule that out, but right now my life is pret