Making their way to the forefront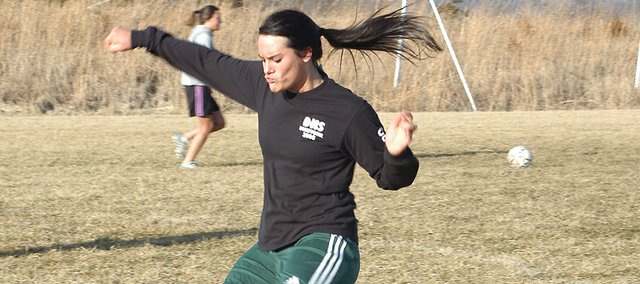 Coming off an 11-7 season, De Soto High School soccer coach Darren Erpelding has higher expectations for the 2008 season.
Erpelding hopes to at least eclipse that mark.
"We'd like to get to at least 12 (wins), but we want at least 11 because we don't want to take a step back," he said. "We could be 10-7 or whatever and not have as good a record but have a better team. That happens all the time, and it could happen this year. But in the girls' eyes, they think they've failed and they haven't, so we want to at least get 11 wins and go from there."
It's a tall order, considering the Wildcats lost five seniors from a year ago. However, De Soto returns its top three goal scorers as well as a few key components that make Erpelding think his squad has the potential to be better than a year ago.
The five players lost to graduation were Jeni Hill, Katie Beck, Kate Beaver, Lidia Flores and Janeth Jacabo.
Of the five, Beck will be the most missed. She is one of three members of the 2007 squad to be selected to the class 5A-1A all-state teams, and the only one of the three who graduated. Her role on the team was defense, playing the sweeper position, which is the roaming, final-line-of-defense player who keeps pressure off the goalkeeper.
"Katie Beck was a very good player. It's tough to replace her," Erpelding said. "Ashley Williams is going to play for us at sweeper."
A junior, Williams played the first two years of her Wildcat career on defense, mostly on the outside next to Beck.
The other two players who garnished all-state honors along with Beck are sophomore Carly Stanley and senior Nicole Radcliffe. Along with junior Danielle Price, Erpelding thinks these three make up a fast team that should score a lot of goals.
Radcliffe has started every game since her freshman year and is the all-time leader in goals scored and points. A year ago, she was second in goals scored with 16 and had seven assists.
"She's our all-everything," Erpelding said. "She's gotten even better this year. She had to work on her first touch, and that's gotten much better. She was one of the ones that was in there in the offseason and worked very hard. She did a phenomenal job in the offseason."
Price was third in goals scored and recorded 11 assists. Erpelding said she, too, had a good offseason.
"She's gained speed," he said. "I don't know what she did but we were running sprints and she was very, very fast. Her field of vision has gotten better, her touch has gotten better and her confidence on the ball in tough situations is better. I can see her becoming an all-state type player."
And thirdly there is Stanley, a sophomore who led the team in goals scored last year with 21 and also had nine assists. She's quite unassuming when one looks at her, seeming around 5 feet, 4 inches tall and looking as if she weighs under 100 pounds. But when she swings her leg through for a shot on goal, all harmless notions quickly fade.
"She's probably our best player. She has unbelievable skill, unbelievable finishing and she's very competitive. Don't get me wrong, Nicole and Danielle are driven but I would say Carly is a little bit more, because she's been playing club."
Erpelding said she seems to have gotten stronger with her leg, and he looks for her to have another big year.
Senior Megen Bedford, the goalkeeper for each of her first three seasons on the team, is lost to injury. She tore her ACL and will be out for her final season.
Erpelding said he already has plans for sophomore Jamie Zvirgdins to step in and fill that position, and although Bedford will be missed, he's confident Zvirgdins will hold her own.
"Megen is a great goalkeeper," he said. "But Jamie, she'll come in and play. She might struggle early until she gets some confidence and some of the jitters out, but she'll be fine."
The Wildcats open the season at 5 p.m. March 13 when they host their opener with Spring Hill. A junior varsity game was originally scheduled for 4:30 with the varsity following at 6 but the game was moved to 5 when Spring Hill couldn't field a JV squad.
The Broncos began the season with 13 players, but that number has fluctuated to 18. Erpelding said many of those newcomers have never played before.
"Knowing him (Spring Hill's coach), they'll come out, play hard, play tough, they won't be the most skilled team by any means, but they will give a great effort. We'll get some of the jitters out and see what we need to work on before we get to the meat of our season."