Cat in the Hat visits Starside Elementary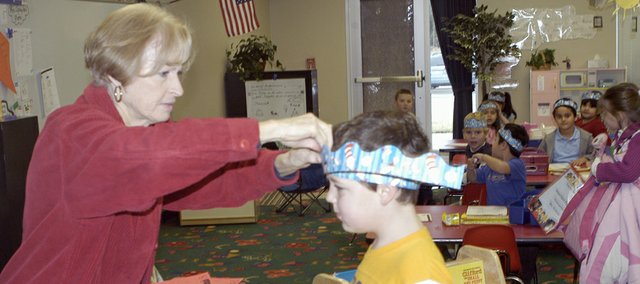 Starside Elementary School students got a chance to meet the Cat in the Hat Monday, and they didn't have to leave their classrooms.
The students were celebrating Dr. Seuss's Birthday and the National Education Association's Read Across America day.
Reading specialist Tana Priddy said Starside used the day as a way to celebrate the students' achievements in working toward their reading incentives.
Students are encouraged to read every night at home and track the amount of minutes they read. Each month, students have the goal of reaching 400 minutes. Students who have read a cumulative total of 1,000 minutes receive a T-shirt, and this year the shirts commemorate Starside's 10th birthday.
Priddy said students who earned their shirts were encouraged to wear them to school to help celebrate their reading success.
The Cat in the Hat visited each classroom Monday afternoon to talk about the March reading challenge. The class with the most minutes read during the month will get their own celebration.
Starside staff began their Seussical day with a green eggs and ham breakfast, to get them in the spirit. Parents also came to read with students during the all-school read.
Priddy said the events are an annual tradition at Starside. What changes for Starside each year is based on what theme the Read Across America Web site has.
"This year we went with their treats," Priddy said. "Sometimes we've celebrated Read Across America as a week-long event."
The students received treats, like book marks and books during the Cat in the Hat's visit.
Read Across America is celebrated nationwide to raise awareness about the importance of reading.
More like this story