De Soto teacher of year candidate adheres to learning by doing credo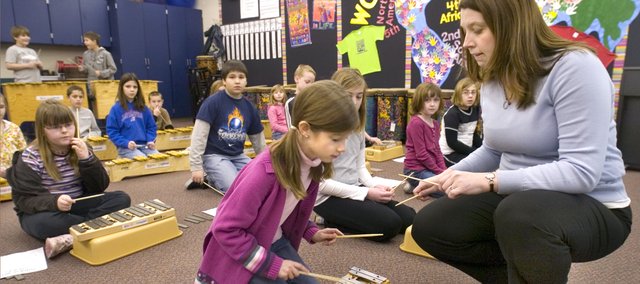 Jennifer Hartman's teaching philosophy is simple.
"Children learn by doing," she said.
So when Clear Creek Elementary School students enter her music classroom, they could be playing the African drums, or composing a song.
Hartman's philosophy is based on the Orff Schulwerk approach that encourages active music making based on the principals of Carl Orff and Gunild Keetman.
Orff and Keetman founded a school based on the integration of music, dance and spoken word.
"An example of that could be you might have one class at a program drumming and another class doing a dance that goes with that drumming piece," Hartman said.
Last week, Hartman was named the De Soto USD 232 elementary candidate for Kansas Teacher of the Year. The secondary winner was Eric Thomas, science teacher at Mill Valley High School.
Hartman said she was first inspired to teach as junior in high school.
"My English teacher, I was so impressed with her because she was doing English, but we did history, we did geography and when we studied Shakespeare, she made the entire experience come alive," Hartman said.
Hartman attended Kansas State University and graduated in 1994. After teaching for three years in the Leavenworth School District, she decided to go back to K-State as a full-time student to get her master's degree.
That's when teaching for her changed.
"I think my teaching absolutely soared after I finished grad school," she said. "I feel like when I went back into the classroom in Manhattan (School District). I was such a better teacher because I really took the time to think about everything I did in the classroom and why I did it. I don't do something in the classroom if there is not a reason for doing it. That master's really helped solidify that in my mind. There has to be an educational reason to do everything we do."
She taught for one year in the Manhattan district after earning her master's degree in 1999. When her husband took a job in the Kansas City area in 2000, Hartman started working for the De Soto school district.
Hartman said she believes music is important to keep in elementary schools at a time when many schools nationally are reducing or eliminating programs.
"Music stands alone on its own aesthetic value," she said.
A past president of the Kansas Orff Schulwerk Chapter, Hartman spends a lot of personal time traveling to conventions on weekends and during the summer.
"I feel like I can keep that fire lit for myself and my students by lots of professional development," she said.
Another way she keeps the fire lit for her students is by letting them know when they do well. Every day at the end of each class she give a marvelous musician certificate to one student who has done a great job, she said. Recently, a kindergartner made a big impression on her when he was chosen.
"I chose a child and he was so cute he was closing his eyes and he had his fingers crossed and when I called his name he said, 'Yes! I knew I was the marvelous musician today,'" Hartman said. "Kids are just so happy and they just love learning and they can get so excited about something that to us would not be a big deal."
Hartman said she has no plans teaching middle or high school students, or becoming an administrator.
"I love middle school and high school students but I am committed to elementary school," she said. "I plan to be a classroom elementary school teacher until I retire.
"I am where I want to be. I am doing what I love. This is where I need to be."