Linzy ends high school with career year in 2008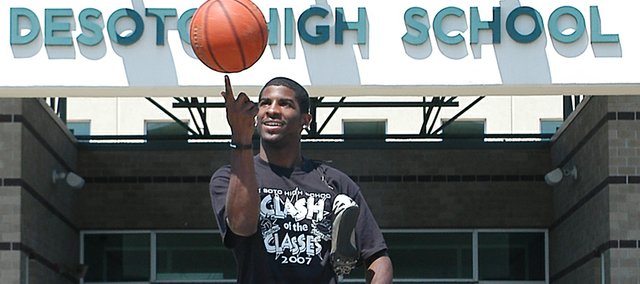 To his coaches, he embodied the most pure athleticism they'd ever coached. Such a statement, one may think, would carry with it hefty and unmatched accomplishments.
And so it is with Andre Linzy. Both of his coaches, De Soto basketball coach Jim Bonar and track coach Brian Dinkel, said that when it came to pure athleticism, no one either had coached could match that of Linzy. Bonar took it a step further when comparing him not only with players he's coached, but players he's coached against.
"There's been a few athletes like that that may be physically stronger, more powerful players, bigger bodies, but as far as overall quickness, jumping, stop and go on a dime type players," he said, "probably not."
Both his accomplishments and the display of Linzy's athleticism in two arenas, on the basketball floor and on the track, are reasons why Linzy is The De Soto Explorer's 2008 Male Athlete of the Year. It's the second time in two years he's garnered the award.
The recognition comes on the heals of the Lawrence Journal-World's recognition as its all-area male athlete of the year.
"It means that all the hard work that I've done has been put to good use," Linzy said. "It feels pretty good. Back in middle school, I would have never thought I would be doing this.
"It feels pretty good knowing that I've been picked out of the whole entire area to be male athlete of the year and being an all-American nominee, I didn't see that coming at all."
Aside from all the post season awards he's won, perhaps the most prestigious is being nominated as a McDonald's All-American in basketball, Linzy's chosen sport and the one he'll play at a higher level. Linzy signed earlier in the year to play at Coffeyville Community College in 2008-2009.
He was dominant in the winter to make this possible. Linzy led the Wildcats in scoring, averaging 18 points per game. He also collected 5.33 rebounds per game, good for second on the team.
Aside from the stat lines, it's another quality in Linzy's game by which Bonar will remember him.
"Andre was our five-second guy," Bonar said. "Every time we needed a bucket, five seconds left, whether it was the half, quarter or end of the game, the last three years it was his time. He accomplished probably 70 percent of the final shots that he took at the end of that quarter."
One of the most memorable of such moments was a three that Linzy hit against Eudora. With the Cats down by three, he banked in a guarded three to send the game into overtime, a game the Wildcats ended up winning.
But identifying that as his most clutch performance of the year may draw argument.
In track, he had the 10th best jump in the nation at the time in the long jump with a leap of 24 feet at Shawnee Mission North.
Meet after meet - excluding the first meet of the year at Baldwin when he was absent because of illness - Linzy netted important points for the boys team in the 400-meter relay, long jump, triple jump and 200.
Then at state Linzy took home two silver medals, in the long jump and 200, and the gold in the triple jump.
"He can do stuff, without hardly ever trying that some of the other kids, it wouldn't matter how hard they worked, would still struggle to be able to do those things," Dinkel said. "He's just that athletic."
All the recognition and coaches' acclaim closes the book on one of the more impressive careers in recent De Soto High athletics. His coaches agree, no one was more athletic.